How Well Does Modular Construction Compete with CMs?
With the shortage of construction labor, builders are exploring a wide range of options for reducing the number of workers required on the jobsite. While components have proven to be a viable and valuable option for doing so, other innovative forms of prefabricated housing are gaining attention.
While prefabrication is a broad term that can be applied to component manufacturer (CM) products like trusses and wall panels, this article will explore other prefabricated construction methods that are in competition with component manufacturing. These types of prefabrication involve either the complete construction of a home in a factory or the construction of one or more complete building units that are then assembled on site. This factory approach to prefabrication typically involves more than structural framing. It can also include everything from attached sheathing and siding to pre-installed mechanical, electrical, and plumbing (MEP) infrastructure. It is these forms of prefabrication that this article refers to with that term.
As you'll gather from the articles addressed below, there are a lot of different ways to reduce the need for jobsite labor, yet methods other than component manufacturing continue to experience limitations and/or challenges they have yet to overcome. Despite today's technological advances and innovative methods, considerable barriers to alternate methods of prefabrication seem likely to constrain it to a niche market. While none of these approaches are a serious threat to component market share currently, it's important to stay abreast of what innovations are occurring and perhaps even what opportunity CMs have to incorporate these approaches into their current business practices.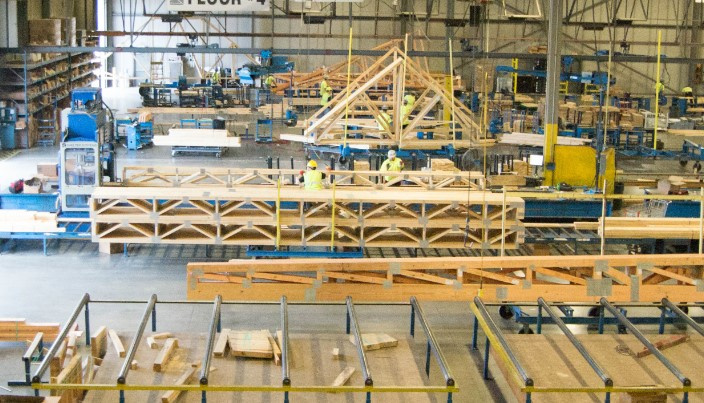 Shelter Systems Limited's CM plant.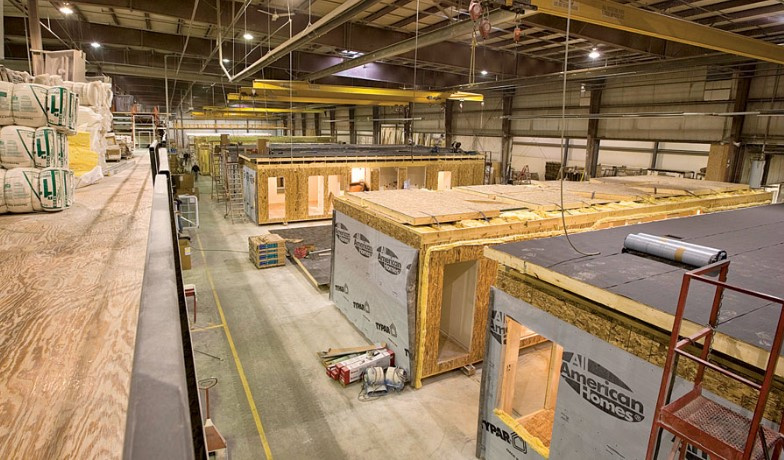 Colorado Building Systems' modular prefab construction plant.
One recent Builder Online article highlights the attention prefab and manufactured housing is receiving as one possible answer to rising construction costs and a shortage of workers, mentioning that construction costs have increased by 15% nationally and up to 30% in some large cities. The article focuses on one architectural firm, KTGY Architecture, and their work with prefabrication methods. Ryan Flautz, associate principal of KTGY, distinguishes between modular construction wherein "a structure is assembled in cartridge units, typically six sided boxes that are prefinished and structurally self-contained" and panelization, which he says "expedites the construction framing time, is more accurate, and allows for greater design flexibility as there are no 'box' requirements." Flautz makes the case that prefab construction, and modular in particular, is more amenable to modifications now than it has been in the past. He says,
Historically, modular homes have been associated with lower quality, but this attitude is starting to wane. The flexibility and quality are much greater than in the past and, once you understand the limitations of modular and prefab, you can then challenge the design and create special environments for the end user.
Later in the article, however, Flautz admits that a hindrance to the wider acceptance of prefab construction is still its limited allowance for modification.
We are still in the early stages of developing a design process when working with factory-built housing. We understand there are great advantages, but there are also challenges that still need to be worked out. The home building industry has legacy processes that, when combined with factory-built housing, create limitations. The traditional production home building process of stick building a structure, attending a "frame walk" or "box walk" and modifying the design in the field during construction, contradicts the effectiveness gained using factory-built housing. Making changes to the prefab systems on the construction site can be extremely costly and difficult to do. There needs to be more built-in flexibility with factory-built housing to allow for some modification in the field without difficulty, while also allowing more direct decision making earlier in the design process. The traditional process must change, and all the players must buy in on this new way of thinking for the future of factory-built housing to be widely used. However, the outlook is certainly promising, and the benefits should be strong enough reasons for the industry to make changes. The question remains: as economies change, will the advantages of factory-built housing hold?
In essence, Flautz concedes that somewhat significant industry changes and more design enhancements are required before prefab methods can truly gain steam in the marketplace.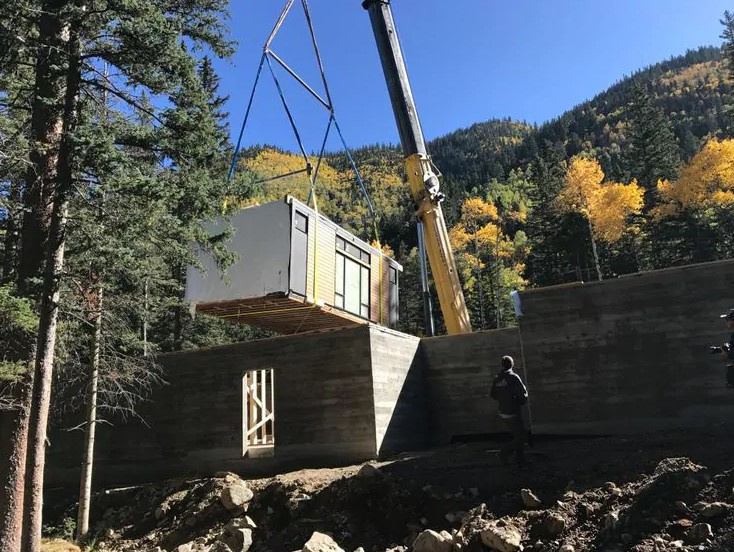 Modular construction installed in the field. Photo from Washington Post article.
A Washington Post article seems to agree with this assessment, pointing out that out prefabrication is more popular in Europe than it is in North America, where there is a penchant for customization. However, the article also points out that there is indeed a niche population for whom prefab construction is currently popular. The most compelling draw is the reduced time prefab buildings take to construct. Brian Abramson of Method Homes in Seattle, quoted in the article, states that "It typically takes 50 percent less construction time to complete a prefab house." Shorter construction time means reduced labor costs, and Michael Winn of Design + Build in Falls Church, Virginia points out that with a prefab house, he can "save as much as 15 to 20 percent compared with the cost of a traditional custom build." Given these advantages, and its popularity with some, why have prefab methods not gained broader popularity, especially since, as the article points out, prefab construction methods were available as early as the 1970s? The article mentions a number of factors: (1) Extended permit approval time, (2) transportation laws limiting the size of cargo in some states, (3) the desire for larger designs on the part of some that make transportation impracticable in general (4) the potential for litigation surrounding newer, unproven prefab technology that leads the building community to gravitate toward tried-and-true methods. Given these obstacles, prefab enthusiasts admit that a rise in the method's general popularity remains dubious.
However, Katerra, as a Bloomberg article points out, is determined to show that its technological prowess and sheer buying power can pave the way for the broader prevalence of prefab homes. The article states,
While other construction tech startups try to modernize some parts of the business, designing modular homes or building robot-run factories to make prefab parts, Katerra seems to have the best shot at putting all these pieces together, from design to finished building. It's pitching some of its own appliances, carpets, windows, even engineered lumber. The company wants to control everything from "womb to tomb," says customer Dean Henry, chief executive officer of real estate firm Legacy Partners Inc.
Katerra buys essentially everything that will be a part of the future home in bulk, "using software and sensors to closely track materials, factory output, and construction speed." For a given housing project, Katerra's architects use software to put together one of a number of standard designs. In offering fewer design options than a typical architect would offer, Katerra can reduce costs. Owning and streamlining as much of the chain of construction is, in the long run, Katerra's vision for becoming profitable. However, as is the case with other companies offering prefabricated homes, limiting design options to reduce costs while still remaining flexible enough to comply with regional building code requirements and other concerns is a challenge Katerra faces, and one it will need to overcome in order to broaden its base of business, the article contends.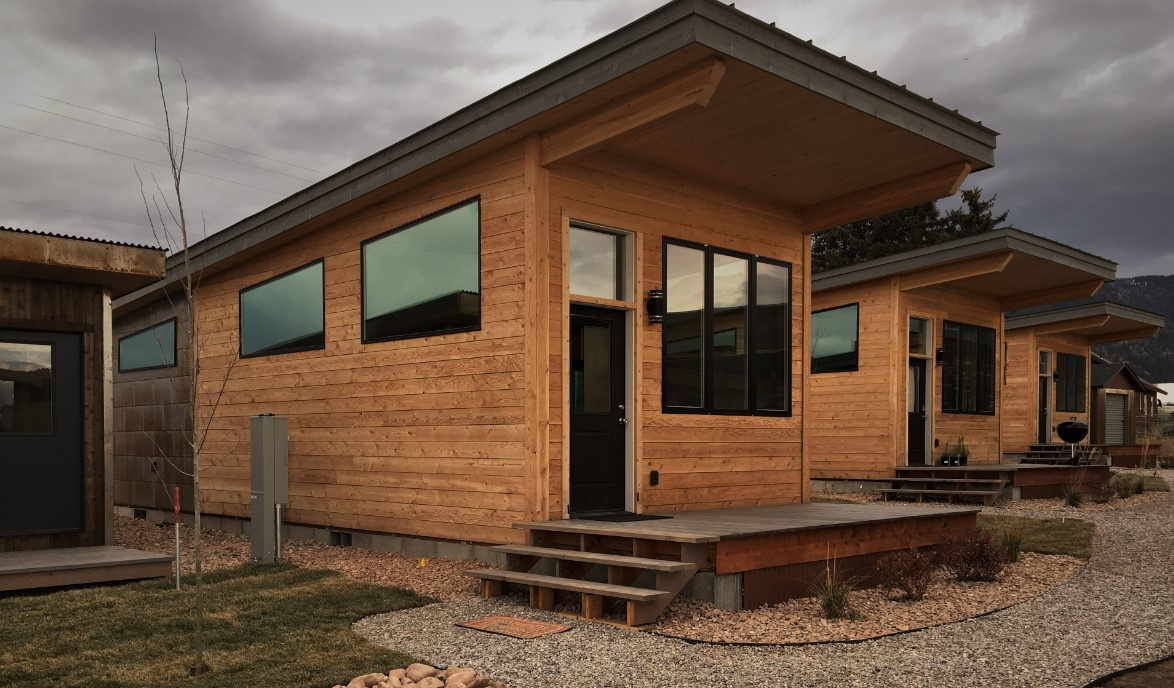 Tiny homes.
A Fast Company article discusses other options that some are looking to as potential solutions to the housing shortage: mobile homes and tiny houses, or, considered together "manufactured homes." In contrast to prefab homes, the article states,
Manufactured homes are already somewhat common. A new report from Apartment List calculates that one in 18 Americans, or 17.7 million people, live in a manufactured home nationwide; the average monthly housing cost is $564, versus $1,057 for a typical house or apartment. In the 100 largest metro areas, people living in mobile homes spent around 40% less, on average, than others.
The article points out that mobile home growth faces its own challenges though, such as zoning community restrictions and simply cultural stigma. The article states these problems are seen less, if at all, in the case of tiny homes, though such an option seems unlikely to appeal to a broad swath of the population given the required sacrifice in living space. The article also mentions other disadvantages to mobile home growth while suggesting some solutions:
Older mobile homes appreciate slowly or even lose value, so owners can't build equity like they would with a regular house. When the homes are part of communities that charge rent and that isn't regulated…rents can become so unaffordable that residents are eventually forced to leave. And banks don't offer regular home loans for manufactured homes, charging higher interest rates on chattel loans. But Fannie Mae is making financing less expensive, which may lead to more manufactured housing. Communities could also change zoning laws to further encourage new building.
Such challenges seem likely to impede broad market acceptance, until, as is the case with prefab housing, change is seen in a number of major areas.
What does the conversation surrounding prefab and manufactured housing mean for the component manufacturer? On one hand, it seems that the interest being generated in these methods is not commensurate with their ability to develop into burgeoning market options. However, it also does not seem prudent to dismiss the conversations out of hand. In listening to them and even joining them, CMs may be able to glean insight into how they can improve their own operations, appealing to those who find prefabrication an intriguing option. CMs can also point out that while the products they offer reduce labor costs, they can also accommodate a wide range of modification in contrast to prefab methods. Doing so could benefit CMs' position in the marketplace. In addition, ensuring that CMs offer a wide range of time-saving products (roof trusses, floor trusses, wall panels, etc.) could also provide them with further leverage in making their case.
What methods of prefabrication are you seeing in your marketplace? Do you see them as a viable threat to your business? Let us know at sbcindustry.com/contact.