Simpson Enhances its Drywall Fastening System
Originally published by: Simpson Strong-Tie — January 17, 2018

The following article was produced and published by the source linked to above, who is solely responsible for its content. SBC Magazine is publishing this story to raise awareness of information publicly available online and does not verify the accuracy of the author's claims. As a consequence, SBC cannot vouch for the validity of any facts, claims or opinions made in the article.
The new Quik Drive PRODW drywall system has a lighter-weight tool body with enhanced durability and ergonomics so drywall installations can be completed more efficiently and cost-effectively.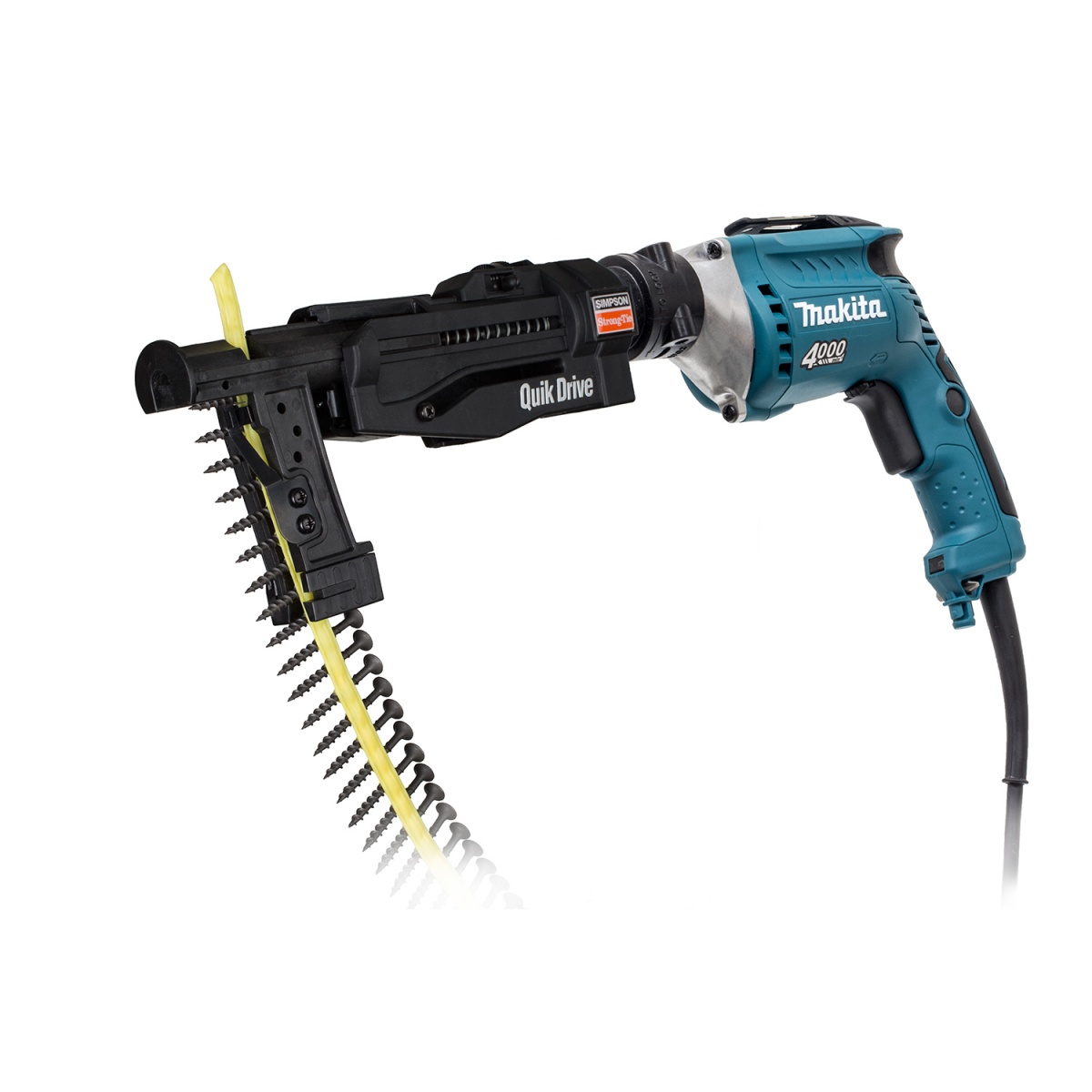 Builder and contractor benefits of the Quik Drive PRODW drywall system include a collated-screw feed mechanism designed to provide consistent and efficient screw delivery, a self-locking depth adjustment for accurate drive depth and a fully rotatable driver adapter for fastening in hard-to-get areas. Curved, collated strips hold screws away from the tool's nose to prevent scratching or marring the surface of materials, and a hardened-steel feed pawl improves reliability.
Quik Drive auto-feed screw driving systems allow one-handed operation for improved speed, safety and ease of use, and the Quik Drive PRODW drywall system's lighter weight results in less user fatigue and improved driving for fewer delays or wasted screws on the worksite.
"With construction labor markets still facing a critical shortage of workers, it's increasingly important to design tool and fastener systems that can provide solutions to improve efficiency and reliability on the jobsite," says Galen Longley, product manager for Simpson Strong-Tie. "From replacing just a few sheets to hanging all the drywall in a mid-rise building, Quik Drive auto-feed systems require less training and are the ideal solution for a first-day apprentice and seasoned veterans alike." 
Backed by a Limited Lifetime Warranty the Quik Drive PRODW drywall system can be used for attaching drywall, DensGlass® and other sheathing to wood or cold-formed steel (CFS) and comes complete with PRODW drywall attachment, a collated-screw quiver and a Makita® 4,000 rpm screwdriver motor. The PRODW drywall attachment is also sold separately. The PRODW is compatible with collated Simpson Strong-Tie® DWF/DWFSD drywall-to-CFS screws and DWC/DWHL drywall screws.  
For more information about the Quik Drive PRODW drywall system, visit strongtie.com/prodw