SBCA & TPI Progressing on Realignment of Roles
Dear SBC Industry Members:
As you may know, a group of three members of SBCA and three members of TPI met last September, and again in November, to discuss a realignment of SBCA's and TPI's scopes of work. During those meetings, this group created an initial path forward as outlined below and which is currently being carried out.
For example, this group developed an implementation agreement that would assign responsibility as follows: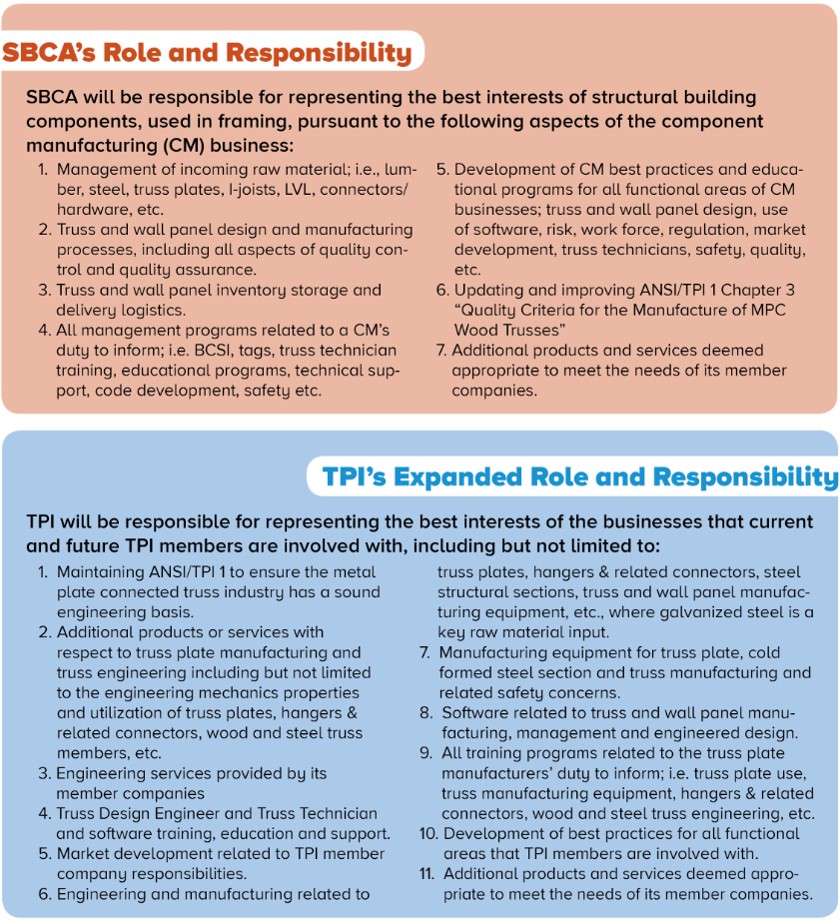 SBCA and TPI staff met on January 9, 2018 and will be meeting again February 20-23, 2018 to further the game plan regarding realignment and related association management issues.
TPI members are simultaneously working through potential changes and evaluating opportunities for their industry association, given the much broader array of activities the TPI member companies undertake to support CM businesses while also maintaining its focus on the metal plate connected truss industry having a sound engineering basis.
A draft implementation plan covering items discussed at the upcoming February meeting will be formulated and presented to the undersigned group. Then this group will begin focusing on specifics surrounding the creation of a Truss Industry Business Council (TIBC). This council will be organized as a ten-member council with 50 percent of the membership being CM business leaders and 50 percent being TPI member business leaders.
The TIBC will address industry issues important to both groups.  Any potential scope of work overlap, between SBCA and TPI, will be discussed and resolved through this group. The council will develop industry-wide strategies and/or proposals that have a well-defined and appropriate mission, scope of work and staff task plan to best serve our collective industries, SBCA and TPI. This group will also be tasked with identifying and quantifying potential unintended consequences of any strategies and related projects.
We are making systematic progress as we seek to serve the best interest of the entire structural building component industry. As stated in the past, we are happy to speak with anyone that has an interest in getting information, which is more detailed, on current work and the direction ahead.