Kansas Truss Manufacturer Celebrates 50th Year
Originally published by: Emporia Gazette (Kansas) — February 3, 2018

The following article was produced and published by the source linked to above, who is solely responsible for its content. SBC Magazine is publishing this story to raise awareness of information publicly available online and does not verify the accuracy of the author's claims. As a consequence, SBC cannot vouch for the validity of any facts, claims or opinions made in the article.
A little more than seven months since they took over business operations, Mark II Lumber Company owners Stan Grimwood, Aaron Trelc and Luke Schnakenberg are celebrating the company's 50th anniversary.
"That we've been here 50 years shows how great of a community Emporia really is," Schnakenberg said. "You know, you go into other towns and there aren't small businesses and there aren't small lumberyards anymore. That's a testament to the City of Emporia and the surrounding communities and the people of this town. I think people do care about this town."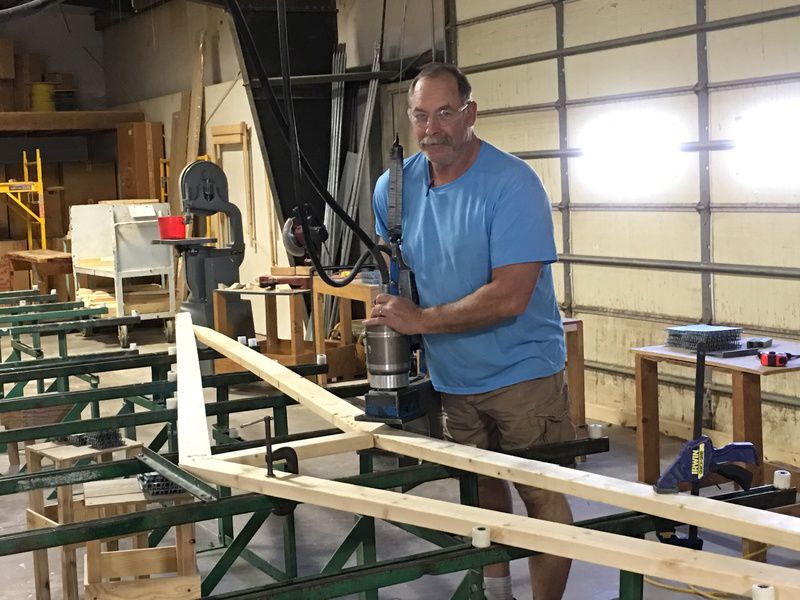 Mark II first opened in 1968 when Lamar and Joe Markowitz purchased the Smith Lumber and Coal Yard Company. The business was purchased by Tom Soetaert and Chuck Grimwood in 1976, who continued and expanded the business for 46 years until they retired last July.
Schnakenberg said it was a good feeling to know Mark II has been able to help people in Emporia and the surrounding communities build their homes for so long.
"It feels great to help people build a home," he said. "There's not much bigger of an investment people make in their lives outside of their families than their homes. When they're done and they're happy, it's satisfying to be a part of that. It makes you feel good at the end of the day when you go home and you know that someone's happy with their home and you've been a part of that."
"It's really an honor to be part of a business that's been around for so long," Trelc added. "We've helped so many people out — homeowners and builders. It's an honor."
Grimwood said he was thankful for the business' returning customers who know they can rely on the Mark II team for their needs.
"I think our repeat customers who keep coming back and our employees know what they're doing and are knowledgable about how products work," he said. "You know, when our customers come in here, they know they can rely on us to help them get what they want and what they need."
Mark II sells to both contractors and homeowners. Schnakenberg said he enjoyed working with the various local builders in the area.
"We are very fortunate to have the builders that we do in this town," he said. "They don't skip corners, they don't look for the cheapest option, they don't do things that are going to fall apart in 10 years. A builder that comes to Mark II Lumber and the builder that's building a home in Emporia or the surrounding area, they know they are going to run into you five years down the road. We're very fortunate to have the builders that we do and we're very lucky that they choose us to provide the materials they need to build a home. We can't thank them enough."
Schnakenberg said he was thankful for the close relationships that have developed between Mark II staff and the contractors that come into the business each day. With roughly 20 employees on staff and low turnover, Trelc, Schankenberg and Grimwood know they can rely on their employees to keep the business going.
"We depend on our staff pretty heavy," Schnakenberg said. "We depend on the experience that they have. Our staff is everything."
Grimwood agreed.
"They can handle the day to day," he said. "We really appreciate that."
Over the years, Mark II has grown and expanded and Schnakenberg said he would like to see the business continue to expand in the coming years by being able to offer quality jobs to people in the community. It's their employees, after all, that have helped make Mark II a successful business over the years.
"We've got a staff here that hardly anybody who walks through the door doesn't know someone here," he said. "Our staff has been here a long time and a lot of our customers also. With me and Aaron being new here, there's not too many people who walk through that door who don't know a person here. That always seems to help. They know what you're looking for and they know what you want, and they may have even been to your house before. We hardly have turnover here, so I think that helps us a lot, too."
Grimwood said he'd also like to see the business add more jobs to the community in the future.
"I'd like to add some more quality jobs," Grimwood said. "Adding good, quality jobs to Emporia helps us to give back to the community and build more trusses and expand our delivery services. We could offer more hardware up front and I think that would come with customers coming into the store and our need to expand and grow."
As for everything else, Grimwood said he'd just like to make sure Mark II continues to offer the same services they've provided to the community over the last 50 years.
"Our truss shop is kind of our niche," he said. "Tom and Chuck started it and we want to continue it. We can build a good, quality truss for you at a fair price because Glen (Stout) has been here forever. He's teaching the kids how to do it in the back. It's a circle of life, just like everything. You've got to keep the next group coming up and the next group coming up. That's what Tom and Chuck did for us."
Schnakenberg said there are many homes in the area sporting trusses from Mark II.
"If you drive around Emporia and look at the roofs, those are a lot of Mark II trusses on those roofs," Schnakenberg said. "We also provide a service for a lot of companies in town for building and providing a lot of materials for their shipping in our truss department. That's another great feature of our business. Fortunately, this is a town that's trusted us to do that for them."
Looking ahead, Grimwood said he's looking forward to Mark II celebrating another 50 years in business.
"We've been here for 50 years and I'm looking forward to another 50," he said. "It's a great community and it's a pleasure for us to provide the great service and quality projects."