ICC to Issue Correction Regarding Special Inspections of Trusses
Des Moines, Iowa is in the process of updating their building codes so they are aligned with the 2018 International Building Code. Rick Parrino, SBCA Board Member and general manager of Plum Building Systems, was gearing up to submit comments and speak with his local officials about Section 1705.5.2 – Metal-plate-connected wood trusses.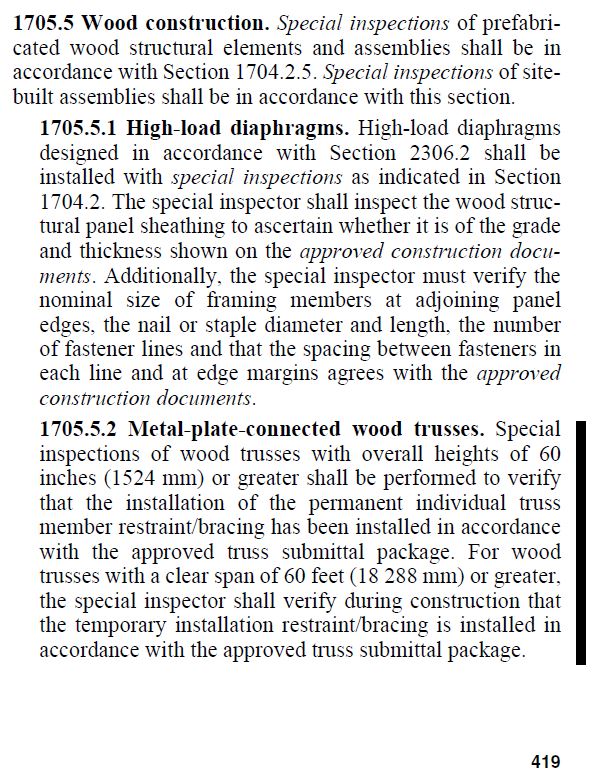 Hoping the city of Des Moines would not adopt this entire section, he reached out to SBCA staff on February 1 for information. 
"I was concerned this section would add costs to the construction by hiring a special inspector," Parrino said. "These costs do not need to be there, because inspectors are already inspecting trusses for bracing."
Obviously, there was significant concern over what SBCA thought was true and what was written in the 2018 version of the IBC. SBCA staff began the detective work needed to figure out what had happened and if this was accurate or an error.
In April 2016, proposal S138-16 was introduced by a representative of the National Council of Structural Engineers' Association (NCSEA) during the 2018 IBC code development process in Louisville, Kentucky. The proposal sought to amend Chapter 17 of the 2015 IBC and add language requiring special inspections of roof trusses over 60 inches high, written as follows:
1705.5.2 Metal-plate-connected wood trusses
Special inspections of wood trusses with overall heights of 60 inches (1525 mm) or grater shall be performed to verify that the installation of the permanent individual truss member restraint/bracing has been installed in accordance with the approved truss submittal package.
While SBCA fully understands the concerns that NCSEA has and the importance of permanent web member lateral restraint and diagonal bracing, having special inspections for all trusses over 60 inches in height feet would be very onerous, given it would apply to nearly all trusses. During the hearings, many construction industry professionals asked the committee to reject the proposal given its breadth of application and cost of implementation.
Between the first Committee meetings in April 2016, and the October 2016 Public Comment Hearings, SBCA engaged in a series of conversations with NCSEA and, together, found a solution that did not require a change to the IBC. Based on our work together, NCSEA withdrew their proposal during the final comment hearings.
Parrino provided this background information to a local building official, only to receive a response and a copy of the 2018 IBC wondering if Parrino actually read the code, as the special inspection language made it into the final published version.   
After researching the 2016 code development process, to make sure the proposal was withdrawn, SBCA contacted ICC to notify them the specific section should not have been included in the new codes since it was withdrawn by NCSEA. On Feb. 12, ICC representatives responded and let us know that they will be issuing an Errata for section 1705.5.2 of the 2018 IBC.
What this story tells us is that there is great value in engaging in conversations with your local building and elected officials regarding building codes and other issues affecting your company. These types of discussions can also really help every member, like this one did, where there may be information in the market that is not correct or needs to be clarified and by working together we find a professional path forward.  
"When passing codes, (jurisdictions) don't always easily recognize the additional costs they are adding to the project or not looking at what the actual field application may be," Parrino said. "So much of the building code is specific to how an individual jurisdiction operates. If they are doing permanent bracing inspections well, there is no need for the IBC to require the cost of a special inspection. This is where members of our industry can step in and point out how it will actually be applied in the field and how we can work together to ensure that trusses are installed properly."
He added, "We can complain about new codes, but it doesn't help if we aren't participating and being part of the solution."
The second lesson in this story is to always provide market feedback to SBCA, as this information is vital to understanding current knowledge and making sure there is not market place knowledge dissonance. "SBCA staff have the tools available to them, so collectively knowledge on issues like these are important to exchange," said Parrino. "I know SBCA has a team focused on these issues and is actively participating in the code development process."
Finally, Rick encourages all component manufacturers to reach out and invite building officials and local legislature into your plant for a tour and discussion about the building component industry. These relationships will allow us to solve problems readily, as happened here, simply because there is great communication.