Can Canadians Owning U.S. Lumber Mills Influence Random Lengths?
by Sean Shields and TJ Jerke (with contributions from Kirk Grundahl)
In 2011, the Softwood Lumber Board (SLB) was created from the joint U.S./Canada softwood promotion funding that was part of the 2006 softwood lumber agreement (SLA). For more background on its origins, you can read this press release.
When looking at the composition, mission and market development goals of the SLB, it's clear this organization views North America as one lumber market. In fact, one need look no further than the original appointments to the SLB:
When any company or trade group is working on market development strategies, there are always a great many strategic discussions focused on how to spur greater use and generate greater value for the product of interest. In the case of the SLB, this flies under the banner of a check-off tax administered by the U.S. Department of Agriculture in a manner that is similar to the check-off tax that U.S. dairy producers implemented, formerly called the "Got Milk" campaign.   
The unique feature of the SLB is that it is made up of both U.S. and Canadian lumber producers, who simultaneously fight over lumber imports as part of the ongoing softwood lumber dispute, while also collectively promoting softwood lumber to increase its value throughout North America.
Therefore, when evaluating the past with a view toward the future of today's North American softwood lumber markets, another factor to keep in mind is the relatively recent shift (since 2015) in the controlling ownership of U.S. mills, particularly in the southern yellow pine region.
According to a 2017 Wood Markets report, four of the largest North American softwood lumber producers have operations in both the U.S. and Canada. These publicly traded companies were positioned in both the top six in Canada and U.S. going into 2017. Below are production numbers for the Canadian companies (the percentage of their U.S. lumber production is shown in parenthesis):
West Fraser produced 2.14 bbf in the U.S. and 3.80 bbf in Canada (36%)
Canfor produced 1.34 bbf in the U.S. and 3.79 bbf in Canada (26%)
Interfor produced 1.61 bbf in the U.S. and 0.88 bbf in Canada (65%)
Weyerhaeuser (81%)
To put this in perspective, Total Canadian softwood lumber production in 2016 was a little over 28.5 bbf, while production in the U.S. topped 32.76 bbf (17.3 bbf coming from the U.S. South).
According to analysis by Forest Economic Advisors, with the purchase of Gilman's six mills in Florida and Georgia in 2017, West Fraser's production capacity now exceeds seven billion board feet. This means one company now controls a little over ten percent of all lumber production in North America.
Here's a list of the U.S. mills now owned by Canadian companies:
West Fraser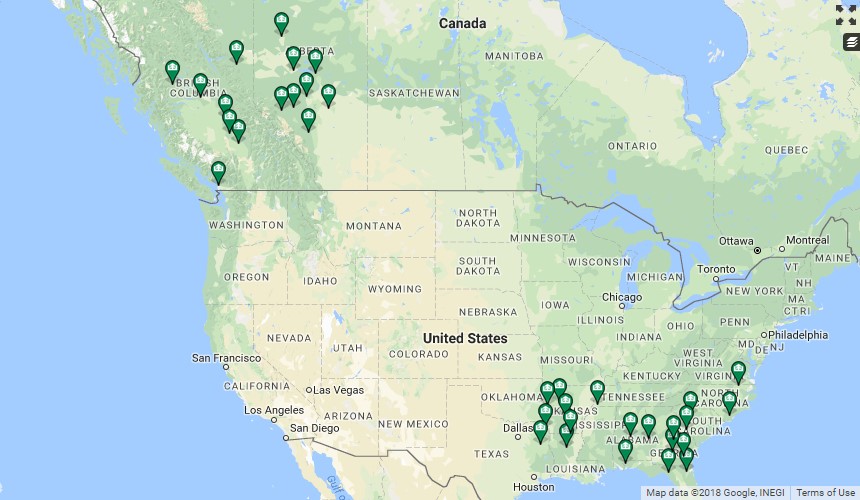 Maplesville, Alabama
Opelka, Alabama
Huttig, Arkansas
Leola, Arkansas
Mansfield, Arkansas
Russellville, Arkansas
McDavid, Florida
Perry, Florida
Lake Butler, Florida
Maxville, Florida
Whitehouse, Florida
Blackshear, Georgia
Firzgerald, Georgia
Dudley, Georgia
Augusta, Georgia
Joyce, Louisiana
Armour, North Carolina
Seaboard, North Carolina
Newberry, South Carolina
Henderson, Texas
New Boston, Texas
Interfor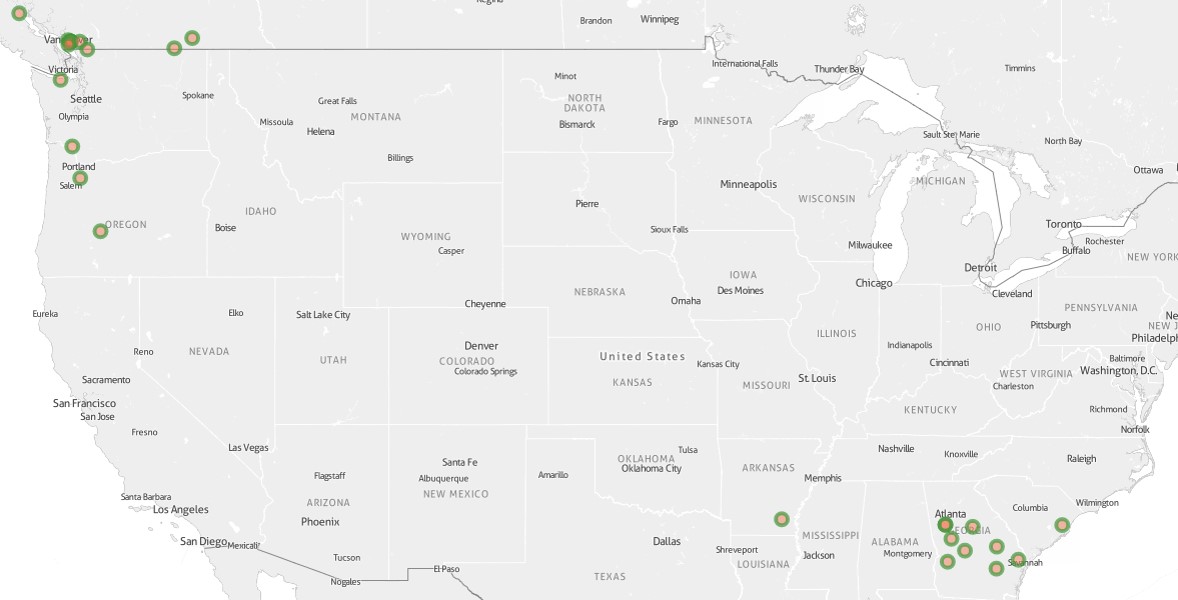 Monticello, Arkansas
Georgetown, South Carolina
Meldrim , Georgia
Baxley, Georgia
Swainsboro, Georgia
Preston, Georgia
Eatonton, Georgia
Perry, Georgia
Thomaston, Georgia
Port Angeles, Washington
Longview, Washington
Sumas, Washington
Molalla, Oregon
Gilchrist, Oregon
Canfor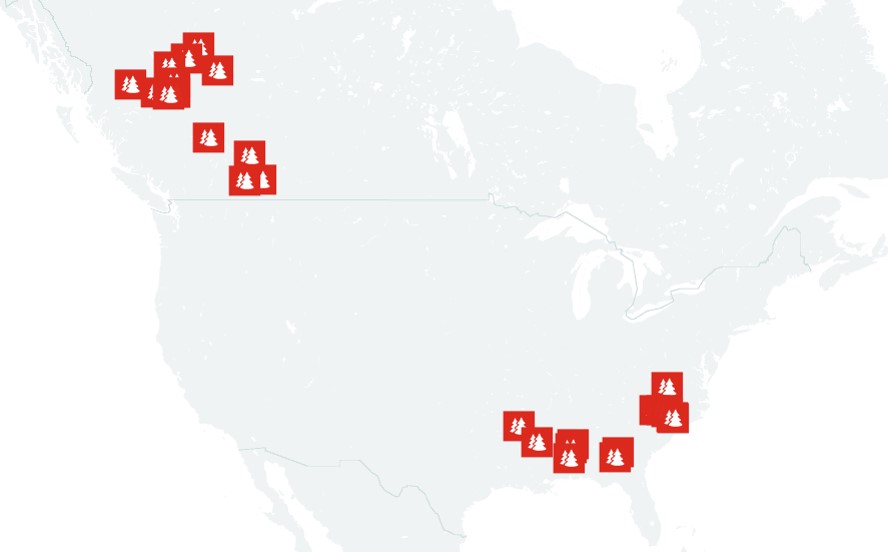 Fulton, Alabama
Jackson, Alabama
Mobile, Alabama
El Dorado, Arkansas
Moultrie, Georgia
Thomasville, Georgia
Hermanville, Mississippi
Graham , North Carolina
Camden, North Carolina
Conway, South Carolina
Darlington, South Carolina
Marion, South Carolina
Western Forest Products
To put this shift of ownership in an earnings perspective, Wood Markets 2016 survey of global softwood lumber mills indicated U.S. South mills are by far the most lucrative. Out of 32 countries and/or regions surveyed, "average" U.S. South mills had highest earnings results in 2016 with a 25 percent EBITDA and "top-quartile" mills earnings were off the scale. "As has been the case since 2008," explained Russ Taylor, Managing Director of FEA-Canada and the principal author of the report, "the major operating advantage for U.S. South mills continues to be the region's low log-cost structure. With a surplus of timber and not enough sawmills operating in the aftermath of the housing market collapse, delivered log prices remain among the lowest in the world with margins being the highest in the world."