W. Florida CMs Host Education for Building Officials
Originally published by: SBC Magazine — December 10, 2018

The following article was produced and published by the source linked to above, who is solely responsible for its content. SBC Magazine is publishing this story to raise awareness of information publicly available online and does not verify the accuracy of the author's claims. As a consequence, SBC cannot vouch for the validity of any facts, claims or opinions made in the article.
On November 2, SBCA's West Florida Chapter (WFC) presented to regional building officials. During the meeting, the chapter gave a presentation entitled, "How to Read Truss Documentation," and hosted a Q&A session afterward.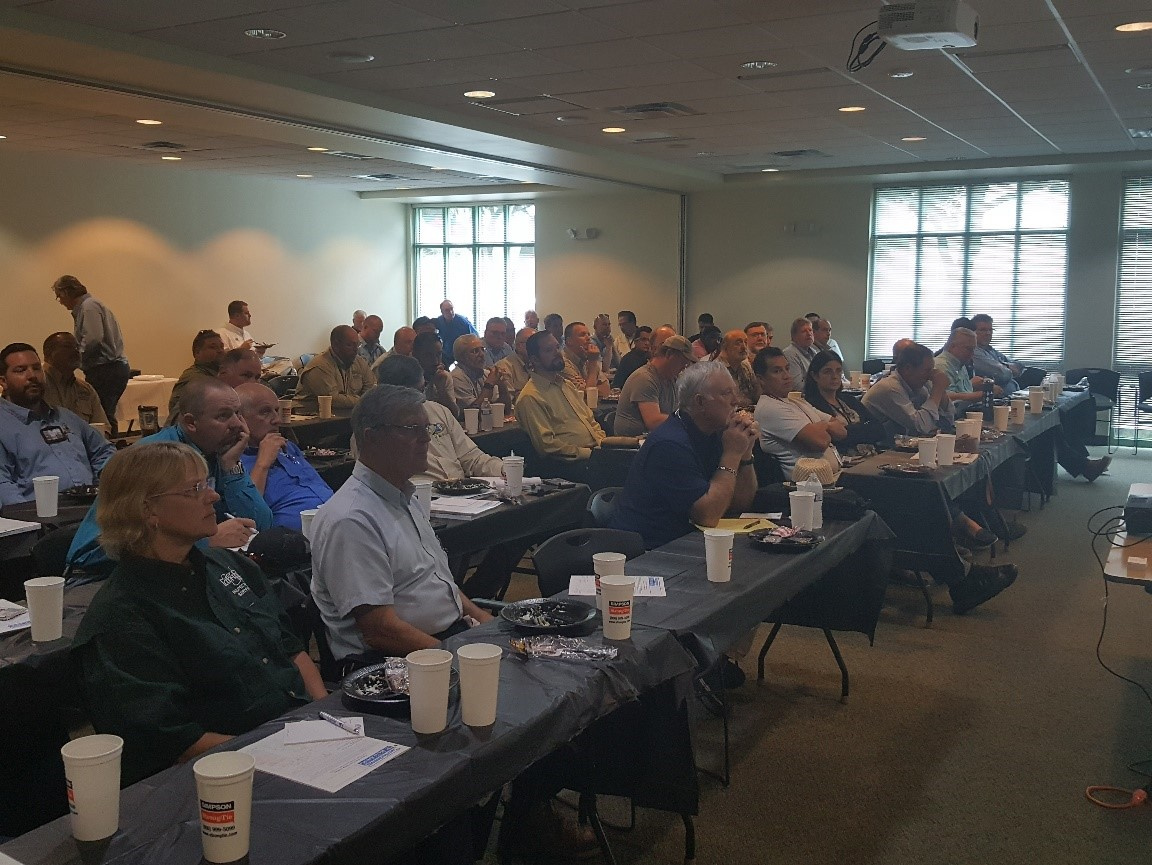 "We reviewed truss industry-specific terminology," says Jim Peterlin, WFC president and truss design manager of Carpenter Contractors of America in Winter Haven, Florida. The presentation included SBCA-developed material (freely available to all SBCA members) and broadly addressed "how to best specify, install and inspect trusses," he says.
For the Q&A session, inspectors were asked to bring case examples to discuss with the presenters and other officials in attendance. "The inspectors always have interesting case issues," says Jim. "We have several engineers who are members," he adds. "They really help the inspectors. The engineers answer their questions and help them with their concerns." He remembers that one of the questions was "What can you use in lieu of CLB bracing [continuous lateral bracing]?" He says members then had the opportunity to explain jobsite package documentation to the group. Jim says that in discussing the case issues, officials tend to learn from each other, the more experienced helping the less experienced over the course of the Q&A.
Jim says that the WFC has a long history of offering similar types of education to building officials in their area. He explains that "around the mid-80s" WFC members started working "with our local inspectors to help them understand the benefit of trusses." In addition, he said, members would "show the strength of trusses" using testing racks to conduct static testing while officials observed.
Since trusses are used, nearly exclusively, in Florida residential construction, Jim says it makes sense to "help educate the officials so they can inspect properly." In addition, "it helps us," he says. "We don't want them having problems. We want them to understand our products."
Jim says he encourages other chapters to hold similar events. In fact, WFC is considering holding a joint seminar next year with SBCA's Central Florida chapter, which would bring truss education to building officials from an even larger region of Florida.
For help wi]th presenting to building officials in your area, contact SBCA staff.