How to Utilize Blower Door Test to Fix Air Leaks
Originally published by: Green Building Advisor — December 12, 2018

The following article was produced and published by the source linked to above, who is solely responsible for its content. SBC Magazine is publishing this story to raise awareness of information publicly available online and does not verify the accuracy of the author's claims. As a consequence, SBC cannot vouch for the validity of any facts, claims or opinions made in the article.
There are two ways to seal potential air leaks in homes: You can either seal seams that you anticipate will leak, or you can seal leaks that become evident when a blower door is used to depressurize the house. This second method of air sealing is known as "blower-door-directed air sealing."
Blower-door-directed air sealing is a method that was developed in the 1980s by weatherization specialists supported by the Weatherization Assistance Program (WAP), a 42-year-old federal agency that funds air-sealing and insulation work in the homes of low-income families.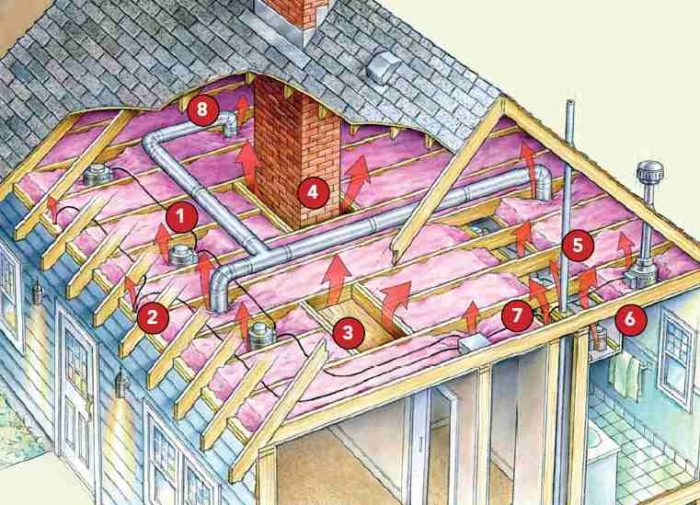 Old homes are leaky. Discovering all the air leaks in an older home is tricky, requiring construction knowledge, air sealing experience, and detective work. Most experienced weatherization contractors use a blower door to help find these leaks.
Some builders of new homes perform multiple blower door tests at each home they build, using each blower door test as an opportunity to improve on the previous results. More commonly, a builder will arrange for a single blower door test, to be performed as soon as the home's primary air barrier is complete.
If a house has a vented unconditioned attic, the primary air barrier usually includes the wall sheathing and the ceiling drywall. Assuming that the drywall contractor can visit the job site to install the ceiling drywall early in the construction process, the blower door test is performed as soon as the following steps are complete: the wall sheathing, roof sheathing, roofing, windows and doors, and ceiling drywall. (If your airtightness target is ambitious, you might conduct a second round of blower-door-directed air sealing after the electrical and plumbing rough-in, wall insulation, and drywall work is complete.)
If the house has an unvented conditioned attic, the first (perhaps only) blower door test would be performed as soon as the wall sheathing, roof sheathing, roofing, windows, and doors are installed.
If a builder simply wants to know the home's air leakage rate, the blower door operator sets up quickly, determines cfm at 50 pascals of depressurization, and leaves.