Tips for Fastening CFS Steel Framing to Concrete Floors
Originally published by: Construction Superintendent — February 21, 2018
by Dan Snyder
The following article was produced and published by the source linked to above, who is solely responsible for its content. SBC Magazine is publishing this story to raise awareness of information publicly available online and does not verify the accuracy of the author's claims. As a consequence, SBC cannot vouch for the validity of any facts, claims or opinions made in the article.
When cold-formed steel construction products arrive on a jobsite, superintendents can be sure they will be straight, strong and will have consistent properties throughout the entire application. These properties make planning, sourcing and installing the cold-formed steel products easier and more efficient, in terms of both time and cost. On the jobsite, the combination of consistency and tight manufacturing tolerances allows builders to safely and easily construct building modules and panelize cold-formed steel wall systems to reduce onsite labor costs and improve overall project cycle times.
These same properties can lead to issues when working to join cold-formed steel wall panels to other materials used in floor systems. When other materials are uneven or cambered, but still need to be connected to straight steel wall panels, it can lead to inconsistencies and gaps between the two materials and create the need for costly and time-consuming adjustments after installation. There are methods to resolve these issues both during and after installation, however these resolutions cost valuable time and money, and can create problems for superintendents working on a tight timeline and budget.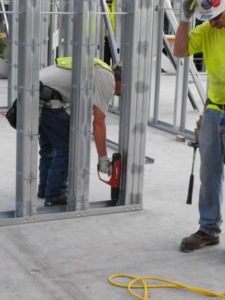 Shooting panel to slab. Photos courtesy of Don Allen
Don Allen, director of engineering at Super Stud Building Products, Inc. weighed in on the best way to avoid issues with connecting steel wall panels to concrete flooring systems: "The ideal way to eliminate this issue is to prevent it from happening in the first place by increasing quality control measures and including all parties in planning meetings," said Allen. "Collaboration between manufacturers, superintendents, building officials, contractors and others involved in jobsite planning and coordination before materials arrive and construction begins helps ensure everyone understands the specifications and tolerances required for the products they are responsible for delivering and installing."
Holding regular meetings in advance can create additional costs up front due to increased time spent planning and in the actual meeting, but allows subcontractors to discuss needs with each other and ensure all products and materials are created and installed to specifications to allow for smooth installation and prevent costly delays during and after installation.
Beyond holding preconstruction meetings, it is vital to include all specifications and to be very clear about tolerances in construction documents and project communications so builders who may not have been directly involved in meetings are still aware of tolerances and requirements to meet job specifications. Continued subcontractor coordination is also beneficial during construction; by allowing steel wall panel contractors onsite during concrete placement, the two contractors can communicate, detect and prevent potential issues before and during installation.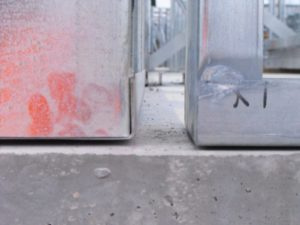 Gap below end of panel. Photos courtesy of Don Allen
Even with extensive planning and coordination, some inconsistencies are inevitable in concrete flooring systems, but when they are minor they can be resolved fairly quickly, without major effects on construction schedules or budget considerations. Prior to steel wall panel installation, minor concrete issues can also be fixed by simply grinding down problem areas in concrete floor systems. Issues with uneven concrete can also be avoided by anchoring a straight steel plate or anchor to the outside of the slab to create a more even, straight edge to connect steel wall panels to concrete floor systems.
Cold-formed steel wall panels can also be successfully installed on slightly uneven floor systems by using shorter panel widths or more flexible connections. Panels that are shorter horizontally take longer to install, but can be connected to concrete floors with greater inconsistencies, eliminating the need for costly post-installation fixes. Where possible, the use of screws rather than welds can also add flexibility to panels to accommodate uneven surfaces in concrete floors. In addition, when installing panels for critical applications such as shear walls, builders can incorporate some flexibility into panel and hold-down locations during installation by leaving hold-downs loose or anchoring them slightly above the base of the panel. This flexibility allows for adjustments to close gaps between materials without fully removing or altering panels.
When minor gaps are identified between cold-formed steel wall panels and concrete floor systems after installation, shimming or grouting can fill those gaps and eliminate the need to alter panels or flooring systems, or reinstall panels.
Each of these practices can be employed to prevent costly issues when working with cold-formed steel wall panels and concrete flooring systems. With the proper planning and management, superintendents can avoid time-consuming contractor re-works like altering steel wall panels, which can reduce structural capacity.
Dan Snyder is director of BuildSteel.