Report Outlines Opportunities for Greater Energy Efficiency
Originally published by: Appalachian Voices — July 25, 2018

The following article was produced and published by the source linked to above, who is solely responsible for its content. SBC Magazine is publishing this story to raise awareness of information publicly available online and does not verify the accuracy of the author's claims. As a consequence, SBC cannot vouch for the validity of any facts, claims or opinions made in the article.
Editor's Note: The following article summarizes a recent report published on the challenges rural areas experience in paying for energy costs.  The report points out that the most effective way to address this significant public policy issue is to improve the energy efficiency of buildings themselves.  There are a number of tool available at http://www.continuousinsulation.org/ to help everyone from current building owners and developers to public officials understand and implement energy efficient approaches for the building envelope.
Rural households spend 40% more of their income on energy costs than households in metropolitan areas, according to a comprehensive new report.
On July 18, the American Council for an Energy Efficient Economy and Energy Efficiency for All released a landmark report on rural energy burdens titled "The High Cost of Energy In Rural America: Household Energy Burdens and Opportunities for Energy Efficiency." The report comes one year after ACEEE published a similar study focused on energy burden for urban households.
The new report analyzes the energy cost burden — or portion of gross household income spent on home energy costs (not including transportation) — for rural households across the nine major Census regions of the United States. Key findings from the report include the following:
The median energy cost burden for rural households across the US is 4.4%, compared to 3.3% nationally
Low-income households in rural areas experience an energy cost burden that is three times the burden faced by higher-income households
Renters, elderly or non-white residents, and those living in multi-family or manufactured homes are hit particularly hard
With a median energy burden of 4.6% to 5.1%, the problem is particularly pronounced in the East and Southeast regions.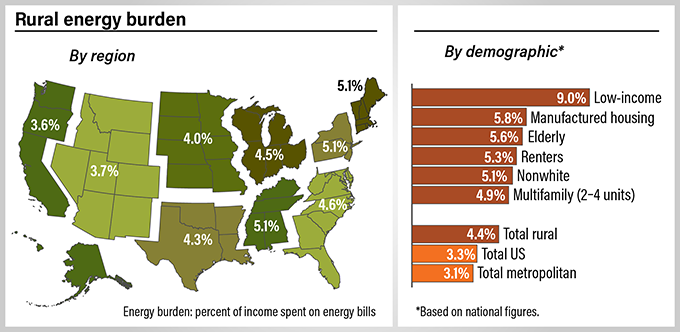 Graphic produced by ACEEE and EEFA
The findings, while not unexpected, paint a stark picture of how deep of a problem energy costs can be for rural communities. Through our own work, Appalachian Voices has also identified residents with energy burdens as high as 50% in the winter months when heating costs skyrocket. But the report also provides a solution, stating that "with the right policies and initiatives, those with high energy burdens could see some relief. Energy efficiency upgrades can lessen these energy burdens by as much as 25%, resulting in more than $400 in annual energy bill savings for some households."
For the past five years, Appalachian Voices has worked to raise public awareness about how how much of an economic crisis exists in rural Appalachia due to the pervasiveness of high energy costs and inefficient homes, particularly for low-income households. This is a problem faced by rural communities across the country.
To address the widespread problem of energy cost burdens in the mountains of North Carolina and Tennessee, Appalachian Voices is advancing a type of home energy efficiency finance program called Pay As You Save(™), or PAYS. Known as an "inclusive" finance program, the PAYS system is available to everyone, including low-income households, renters and those with poor credit. We view the PAYS model as one of the best options for addressing energy cost burdens for Appalachian residents. Check out a 90-second video that explains why this model is so effective.
Unfortunately, as stated by Tom Cormons, Appalachian Voices' Executive Director in ACEEE's press release for the report, "[electric] utilities serving the region are way behind when it comes to making smart investments in energy efficiency. It's time for Appalachia to benefit not just from lower energy costs, but also the jobs and economic growth that energy efficiency investments can achieve in concert with solar development and other sustainable economic initiatives."