Global Coalition to Focus on Building Fire Safety Standard
According to a recent article in Construction Specifier, more than 30 organizations from around the world have joined forces to develop landmark industry standards to address fire safety in buildings. The International Fire Safety Standards (IFSS) Coalition, as the group will be called, was formed under the United Nations umbrella back in July. Per the article: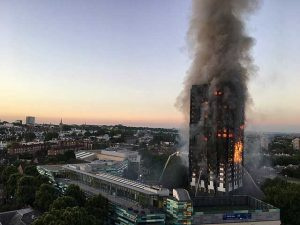 "The coalition consists of local and international professional bodies and standard-setting organizations committed to developing a shared set of standards for fire safety in buildings. The standards aim to set and reinforce the minimum requirements to which professionals should adhere to ensure building safety in the event of a fire."
While the impetus for the coalition's formation appears to be the Grenfell Tower fire, as well as other international high-rise structure fires, it is likely one of their major focuses will be on mandatory sprinkler use.  It is also possible the coalition will review both building regulations and codes around the world as well as various building materials used in the construction of high-rise structures.
"Once the high-level standards are developed, the IFSS Coalition will work with professionals around the world to deliver the standards locally. As its first order of business, the IFSS Coalition will set up a Standards Setting Committee of international technical fire experts to develop and write the high-level standards."