FrameFAST System Increases Truss Installation Speed and Safety
Originally published by: FastenMaster — July 20, 2018

The following article was produced and published by the source linked to above, who is solely responsible for its content. SBC Magazine is publishing this story to raise awareness of information publicly available online and does not verify the accuracy of the author's claims. As a consequence, SBC cannot vouch for the validity of any facts, claims or opinions made in the article.
Last year FastenMaster commercialized FrameFAST, an innovative structural wood framing system designed for truss and rafter to top plate connections. The new system reduces the installed cost of these connections while increasing jobsite safety and meeting code as well as engineering requirements.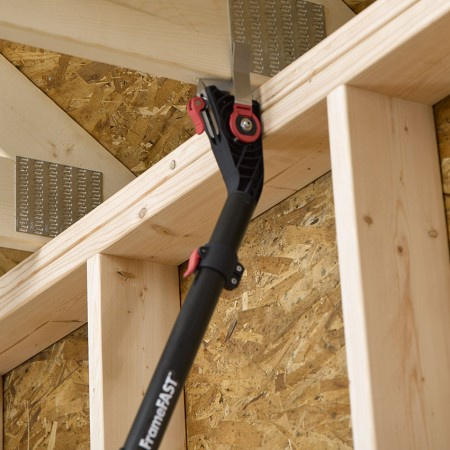 The patented system combines a unique tool with a threaded fastener designed specifically for these connections. "FrameFAST replaces traditional fastening methods, which typically involve pneumatically driven nails and often a hurricane tie, which require the framer to climb a ladder to make each connection" said Tim Gillis, VP of New Product Development and Innovation FastenMaster.  "FrameFAST eliminates the need for all of those traditional elements – no nails, no clips, no nail gun, and no ladder are required to make these code-driven connections."
Builders and Framers will be able to significantly reduce installation time, and therefore installed cost, for truss/rafter to top plate connections. FastenMaster conducted studies that showed increased connection speed by a factor of up to 8x.
Enabling these connections to be made without a ladder, and without pneumatic nail guns, will make significant safety improvements on jobsites according to FastenMaster.
Tim Irwin, product line manager for FastenMaster, also cited current shortages of available skilled labor as a challenge FrameFAST helps solve.  "The simplicity of FrameFAST provides the framing crew with flexibility, as even the most novice crew members will be proficient with the tool after making a few connections," Irwin said.
In addition to making truss and rafter to top plate connections safer, faster, and easier, FrameFAST also delivers improvements in connection strength.  The unique threaded fastener provides uplift and lateral values that exceed the most commonly used, traditional methods.
FastenMaster is optimistic about market growth and the value that FrameFAST delivers.  "Year-over-year growth in single and multifamily residential segments remains strong," Irwin said.  "Systems that drive improved speed and efficiency, while addressing the realities of a smaller available skilled labor pool, will provide important solutions to residential construction."