Building Construction Materials Costs Level Out
Originally published by: NAHB — August 9, 2018
by David Logan
The following article was produced and published by the source linked to above, who is solely responsible for its content. SBC Magazine is publishing this story to raise awareness of information publicly available online and does not verify the accuracy of the author's claims. As a consequence, SBC cannot vouch for the validity of any facts, claims or opinions made in the article.
The prices of residential construction materials were unchanged in July, according to the latest Producer Price Index (PPI) release by the Bureau of Labor Statistics. Increases in prices paid for OSB (+7.0%, not seasonally adjusted) and gypsum products (+2.0%, seasonally adjusted) were offset by declines in softwood lumber (-2.5%, NSA) and ready-mix concrete (-1.5%, SA).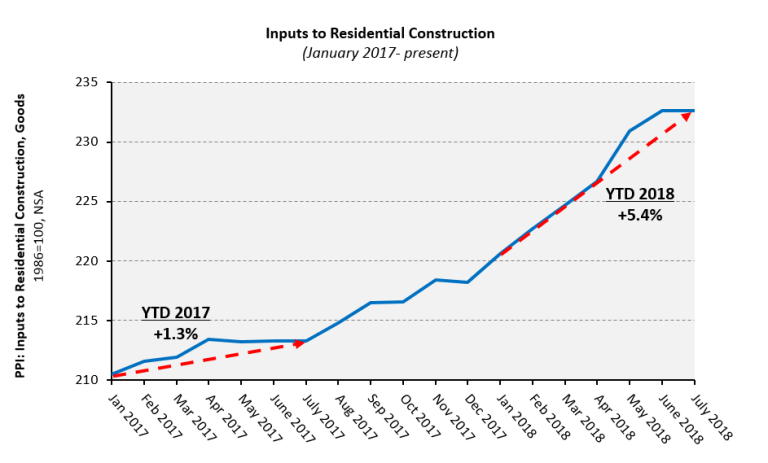 July marked the first time in seven months that the price index for residential construction inputs (goods) did not increase. Still, the index has risen 5.4% in 2018, more than quadrupling the year-to-date increase at this time in 2017 (see above). Since January 2017, the index for prices paid for goods inputs to residential construction has only declined twice—in May and December of 2017—each time falling just 0.1%.
As expected, the July PPI release captured the decreases in prices paid for softwood lumber that began in mid-June. This was only the second month in 2018 in which the index for softwood lumber has declined. Even after accounting for the most recent price movements, the average price paid for softwood lumber in 2018 remains the highest on record according to Random Lengths data—22.8% above the prior record set in 1997.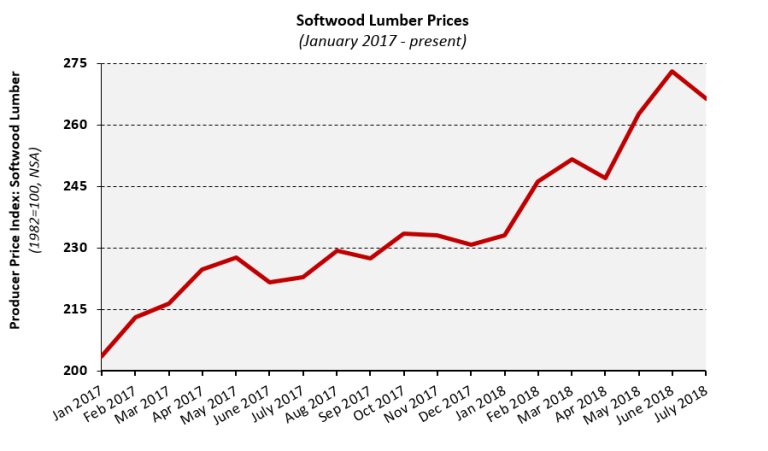 The 7.0% increase in oriented strand board (OSB) prices represents the sixth consecutive monthly increase. After a three-month downward trend in late 2017, OSB prices have risen 38.1% over the past six months, according to BLS.
Due to methodology, OSB and softwood lumber data in the PPI can lag market conditions. This is especially apparent in OSB prices reported in July. According to Random Lengths, OSB prices actually fell 15.8% in July.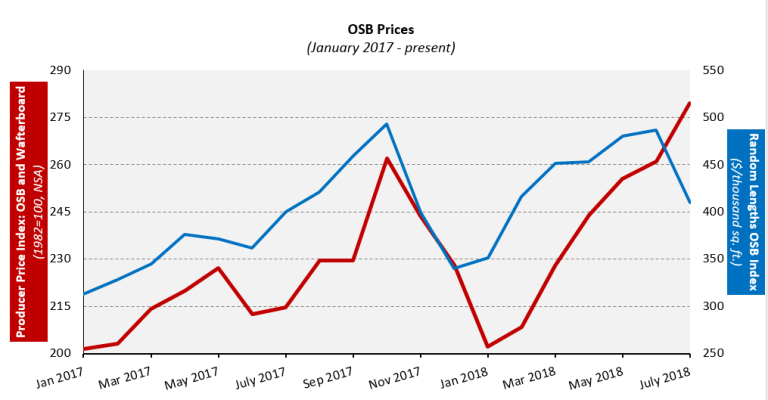 Two important factors drive disparities between price changes builders have experienced and the PPI index changes:
1. The producer price index tracks prices paid by wholesalers, distributers, and retailers rather than what those businesses charge customers.
2. The index does not include prices paid for Canadian products as it does not include imports (just as the consumer price index does not reflect prices paid for exports).
The index for ready-mix concrete (RMC) prices fell (-1.5%), the third consecutive monthly decrease after increasing in 10 of the preceding 11 months (seasonally adjusted). After an uncharacteristically large monthly increase in March—when the index rose 3.3%–monthly price changes have been much more in line with the ten-year average. Since the end of the Great Recession, the RMC price index (SA) has increased 0.2% each month, on average.
BLS also reported that prices paid for gypsum products increased by 2.0% (SA) in July. Gypsum prices have increased 4.0% and 11.4% since January of 2018 and 2017, respectively.