After Fire, NFC Member Has Advice for Framers
Originally published by the following source: National Framers Council — August 7, 2018
by Kevin Kutschenreuter and Sean Shields
In the early morning of June 19, a massive two-alarm fire began to blaze in Tucson, Arizona. An incomplete wood-framed, student housing project called "The Mark" south of the University of Arizona campus had caught fire. The cause was later determined to be arson. Investigators noticed that accelerant had been applied where the fire originated. In addition to virtually leveling the incomplete wood framing, the fire also damaged cars nearby and destroyed a tower crane and framing equipment on-site. The crane and equipment belonged to NFC member Shem Jessop, owner of Agra Tech LLC of Cedar City, Utah, whose company had been contracted to frame the building.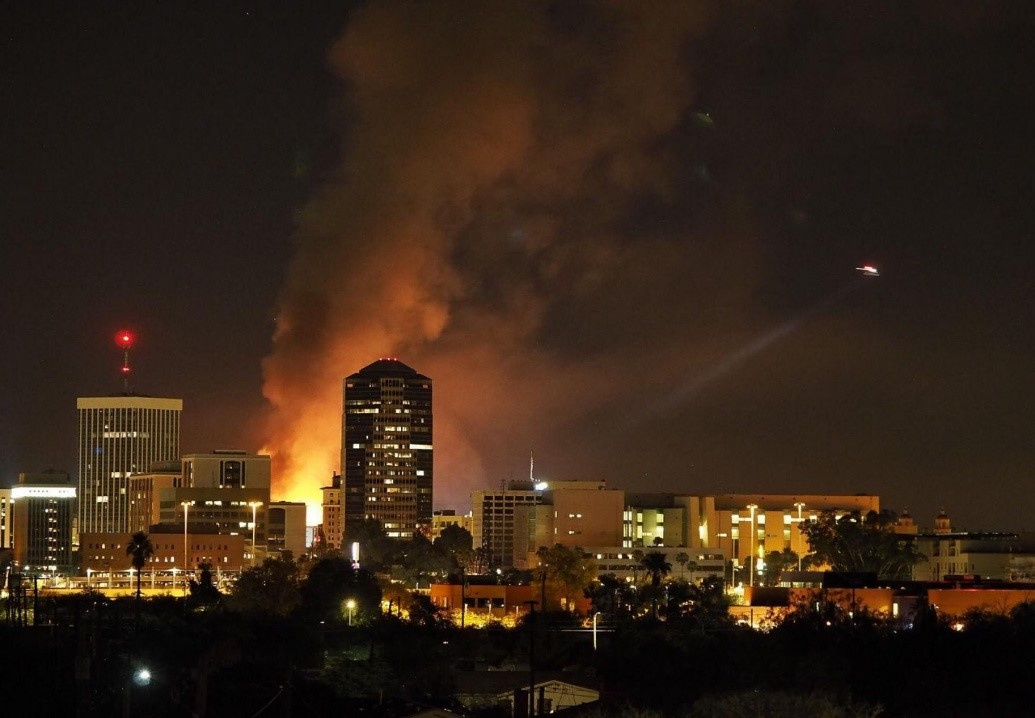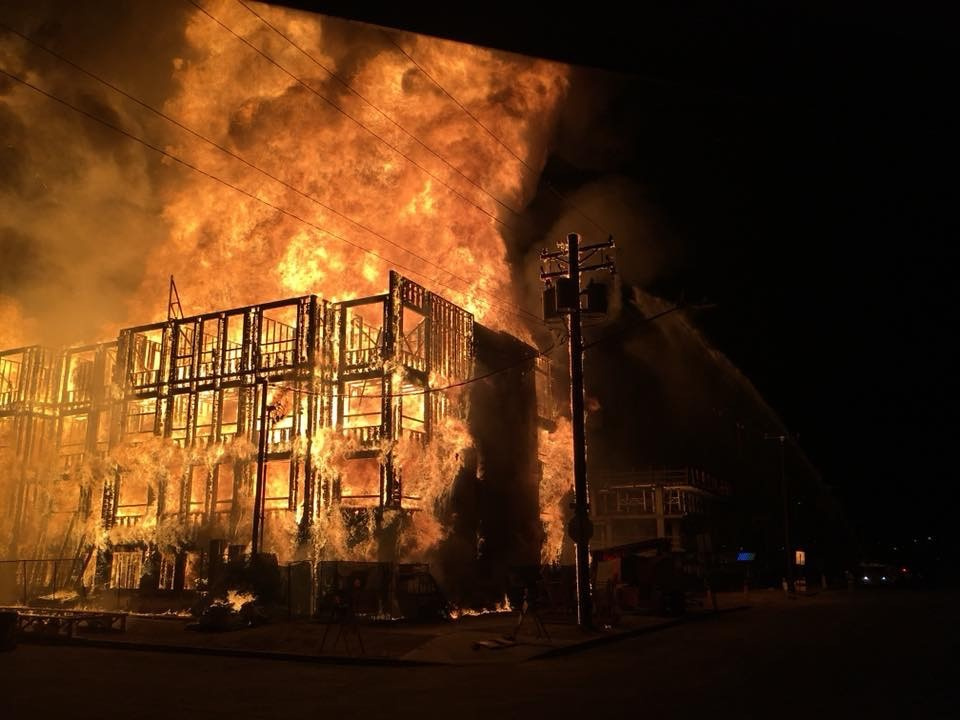 Views of the fire in progress
"About four in the morning I got a call from the project manager," Shem says. By the time Shem arrived on the scene, however, "it was pretty much ashes." Shem was shocked at the extent of the damage. "We're a small framer," he says, and so he thought something like this would "never ever happen to a company our size."
Based on his experience, Shem has some advice and words of caution. He says he would like to see general improvement when it comes to "security with wood-framed structures, at least through a certain point in the building process," that is, until "there's something on the walls to isolate the damage."
"One thing we would highly encourage," Shem says, is that jobsites include a "digital security system." To monitor the rebuilding of the project, the building owner has hired a company that monitors the jobsite with a 24-hour security feed. Shem says an employee of the company watches the feed, and "any kind of motion detection automatically starts recording and pops something up on their screen." Shem says that while there is value in on-site security, a digital approach is probably more practical because it doesn't cost nearly as much.
The National Framers Council has also pulled together a number of best practice resources to help mitigate fires in wood building under construction.  These online guidance documents are meant to help GCs, framers and other trades implement practices that can help minimize the factors that can lead to fires.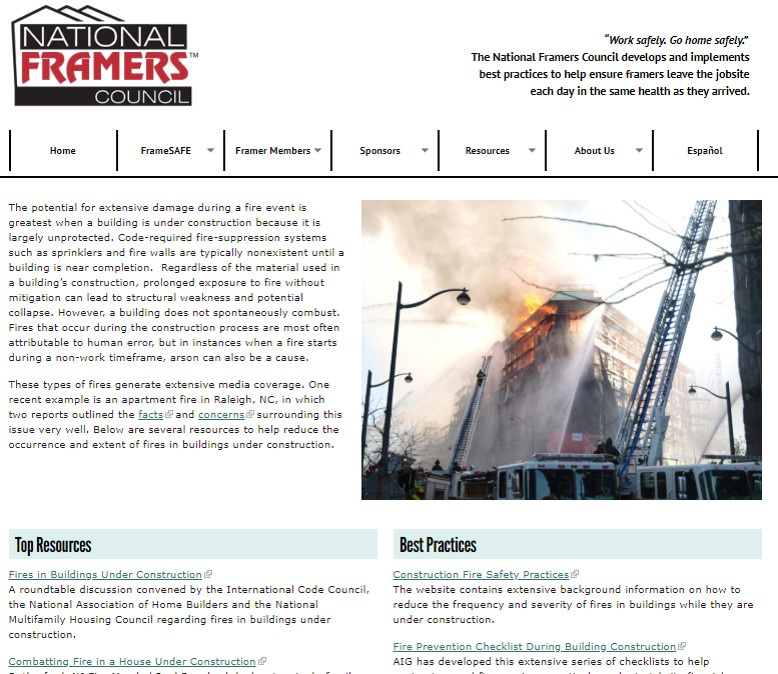 SBCA has also published an online webinar, "If "Naked Framing" Could Talk, Who Would They Blame Fires On?," put on by NFC president Scott Stevens and SBCA executive director Kirk Grundahl, P.E., where they discuss the many different ways fires start and provide a better understanding of root causes, which can help solve fire risks during construction.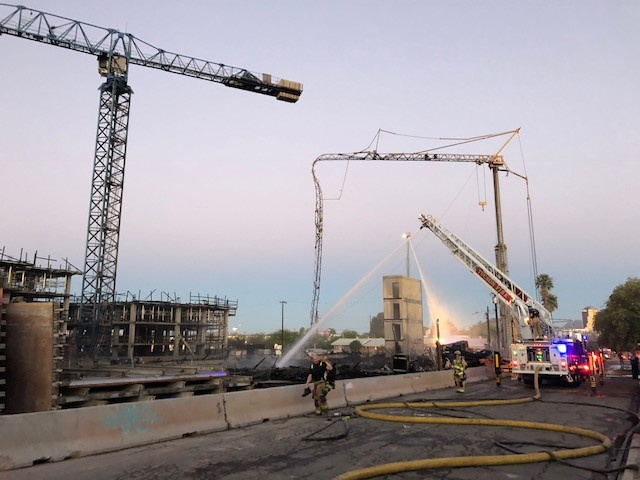 Shem's destroyed tower crane in the aftermath of the fire
To help protect themselves in the event that they do lose equipment, Shem encourages regular insurance reviews. After the fire, Shem found out that multiple pieces of his equipment were not insured correctly. For example, it turned out that Shem's tower crane should have been insured at a greater value. Since Shem purchased it, the value of that particular type of crane has increased, and now, Shem says, "I can't find one for the price I purchased it for." Therefore, Shem urges framers to "do a review on your policy and just make sure you're covered equipment-wise."
Last, Shem advises framers to be careful and diligent in gathering information about those seeking employment. While the arsonist in this case has yet to be identified, Shem says that "one thing the officers asked us for is the names of people that came for jobs." Shem did remember some who had recently come to him seeking work, but he did not remember who they were. "We treated them kindly," Shem says, "but the one thing I would recommend we do different next time is actually sit down with them and get their information first." He adds, "I would suggest, when you do a job interview, rather than just saying 'No, we're good on help'" to instead "get to know them, figure out who they are" and to at least get a name.
Shem's recent experience is instructive to everyone involved in the construction process. As framers, what best practices do you follow when it comes to jobsite security, ensuring adequate insurance coverage and interacting with employment inquiries on the jobsite? Let us know! We would love to share any helpful best practices with the industry.