Understanding Fire Safety and the Use of Foam Sheathing
The Grenfell Tower tragedy was the worst building fire in London in recent memory. There have also been many concerns about fire safety and regulatory compliance at Grenfell Tower, including the lack of a working fire alarm system or sprinklers. With multiple fatalities and many accusations, it is no surprise the accident investigation has turned into a full-blown criminal investigation. Key question being asked, even though U.S. building codes were not involved, is: "Given all the concerns surrounding the Grenfell fire, does this event reflect code compliant performance in a way that should cause significant regulatory changes for construction in the U.S.?"  
One concern involves the performance of foam plastic insulated sheathing (FPIS) with different types of cladding. It is worth taking a look at both the important use requirements for FPIS and the extent of cladding options that are code compliant. Strictly conforming to the International Building Code (IBC) can help keep builders and designers from both overreacting to a tragedy like the Grenfell Tower fire and from perpetuating unsafe practices.
Key code compliance considerations can be found here: Post Grenfell, Do You Know the Code and Your Cladding Options?
Additionally, the Foam Sheathing Committee (FSC) of the American Chemistry Council (ACC) has created the flyer below (click on the image to view a larger version) to summarize key concepts for builders, designers and building officials to consider.
Everyone involved in building construction is focused on providing as many safe and code compliant options to the market as possible. This generally results in the best engineered, economic and code compliant solutions for any given project. If we allow a calamity, like Grenfell is, to drive decision making and make generally accepted engineering and code compliant practice more restrictive or onerous, there may be significant unintended consequences. It's important to remain focused on providing the most economical, safe and code-compliant solutions. Many companies have worked hard to create highly engineered, safe and innovative product offerings, which have helped buildings deploy high performance solutions using multifaceted moisture protection and energy saving characteristics. Hence, all decisions made in the context of one event today can easily thwart positive advancements, which is blood that makes the U.S. construction industry great.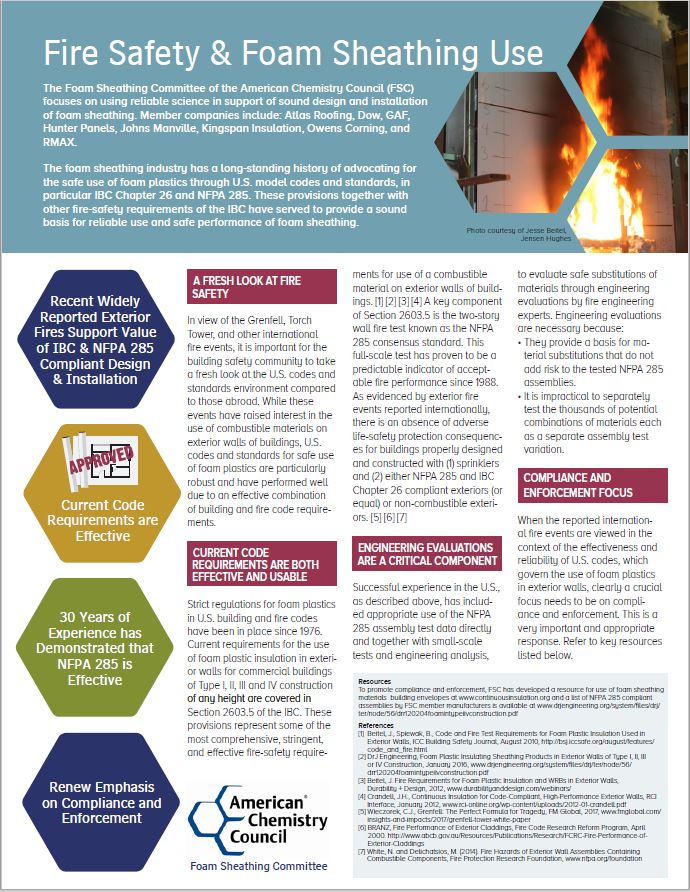 References: