QC Testing Underway: More than One Way to Break a Truss
Originally published by: SBCA — April 16, 2018
by Evan Protexter and Kirk Grundahl
The following article was produced and published by the source linked to above, who is solely responsible for its content. SBC Magazine is publishing this story to raise awareness of information publicly available online and does not verify the accuracy of the author's claims. As a consequence, SBC cannot vouch for the validity of any facts, claims or opinions made in the article.
Quality Control (QC) continues to be an important topic to TPI and SBCA. The last major revision to ANSI/TPI 1 Chapter 3, Quality Criteria for the Manufacture of Metal Plate Connected Wood Trusses, occurred in 2002. In the early 2000s, SBCA also updated "SBCA's In-Plant Wood Truss QC" program, a QC data management program intended to help truss plants manage QC and apply it to personnel training and an early warning system for manufacturing adjustments. Given the advancements that have occurred in the industry since then, it is time to consider what changes can be made to take advantage of new QC and Quality Assurance (QA) methodology.
With the realignment of SBCA and TPI responsibilities, a portion of SBCA's focus will be on the following activities: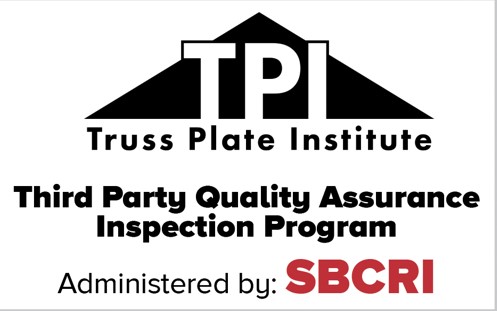 Monitoring incoming raw material; i.e., lumber, truss plates, I-joists, LVL, etc.
The truss and wall panel manufacturing process which includes all aspects of QC and QA (i.e. now the TPI 3rd party inspection program administered by SBCRI).
Updating and improving ANSI/TPI 1 Chapter 3.
Development of component manufacturer (CM) best practices for all functional areas of their business; risk, work force, regulation, market development, truss technician work and education, production, safety, quality, etc.
Considering the length of time since changes to ANSI/TPI Chapter 3 took place, and the importance of implementing improved methods to create an easier and quicker QC and QA process, our industry can seize an opportunity. It is clear that we must not only improve our understanding of the performance of trusses as a system of wood members and truss plates, but also use our understanding to streamline the QC process and the creation of QC charts.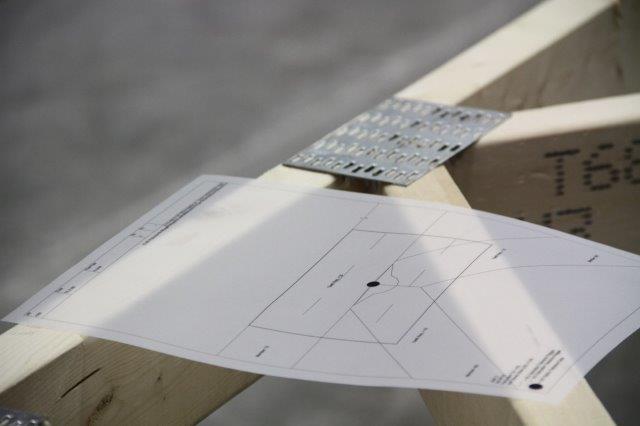 While the exact approach to simplifying and improving in-plant QC is still unknown, one reasonable approach is to test a hypothesis that we can create a  "QC Joint" that if found in control can be used as a predictor of the performance of the entire truss. If possible, this QC joint data can be recorded to create a QC control chart based on focused measurements. This would mean streamlining QC for any truss, taking more QC data and having a greater amount of plant management and training information.
Last week, SBCRI began initial testing phase of our hypothesis. Is the QC joint concept  feasible?
The initial results are promising, with more work to come. It may seem obvious to look for the joint with the highest joint stress index (JSI) and use that joint as the QC joint, but what about the imperfect plating around the rest of the truss? How do wood inconsistencies affect the predictability of joint failure? There is no substitute for performing full scale truss tests and that is where this testing effort is focused.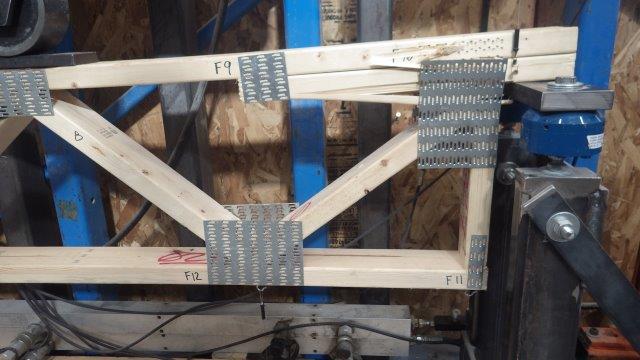 After a very detailed inspection of the joints making up the floor truss to be tested, the testing team has been able to use JSI and the number of available teeth to accurately predict which joint on each truss was going to fail, but the truss's use didn't stop once the truss reached failure. Truss repairs were designed to allow us to test each truss multiple times, allowing us to gather more QC joint hypothesis evaluation data. Ideally, joints could be repaired and failure could be accurately predicted until all of the original joints were replaced.
Does last week's testing solve all of the industry's QC problems? No, but it does help move our focus in the right direction. Whether verifying QC approaches established 30 years ago or verifying the JSI calculations for "SBCA's In-Plant Wood Truss QC" program, anything we can discover from real-world testing is a benefit.
This short video will give you an idea of what can be learned from a truss, even on its second and final time being tested: