Could LEGOs Be the Future for Home Construction?
With rapid advancement in technology, one has to wonder where it is going, and what impact it may have on construction. More companies are announcing the creation of LEGO-like wood, concrete, and plastic blocks that can be mass produced and used for home and commercial use.   
One company, Kite Bricks, has announced their patent-pending "Smart Brick" is made of concrete, said to feature thermal properties that makes them more energy efficient, provides faster construction, and will decrease building costs by 50 percent.
Smart Bricks: https://www.youtube.com/watch?time_continue=157&v=_Yf0KEcXIYA
According to their website, Smart Bricks are designed to be easily joined together, with open internal spaces for insulation and infrastructure elements to be run through the bricks and allow for easy access to these elements. Floors, walls, and ceilings are all constructed by appropriate bricks to allow for facile, solid construction with little mess and significantly reduced construction costs.
Can this new brick-like technology fit well into and expand the use of components? It's exciting to begin thinking about the future and what can be done as you look at the foundations and how brick-like technology could be combined with wall panels or used as walls with floor and roof trusses. Already, using structural building components is more efficient than traditional stick-building, using 30 times less waste on the job site, 23 percent less wood products and allowing builders to put up 2.5 more houses with the same crew.
Other companies, such as Brikawood, offer a kit that allows someone to build a tiny house without any nails, screws, or metal plates. Will builders even be needed in the future? While it's entirely in French, they have a fascinating video that explores the possibilities.
Certainly, the construction of homes using Lego-type blocks raises a few eyebrows, particularly when it comes to U.S. code compliance.
To some, it seems it won't be a problem for brick-like technology to be code compliant.
Elon Musk, Founder of Tesla, launched the Boring Company in 2016. Among the companies' various ventures, he announced online that the company will soon offer "lifesize LEGO-like interlocking bricks made from tunneling rock that you can use to create sculptures & buildings." The bricks will be "rated for California seismic loads, so super strong, but bored in the middle, like an aircraft wing spar, so not heavy," he said.
The structural building component industry should be looking at ways to combine truss technology with this new, emerging technology. Bringing two efficient systems together is only going to help the industry and a CMs bottom line.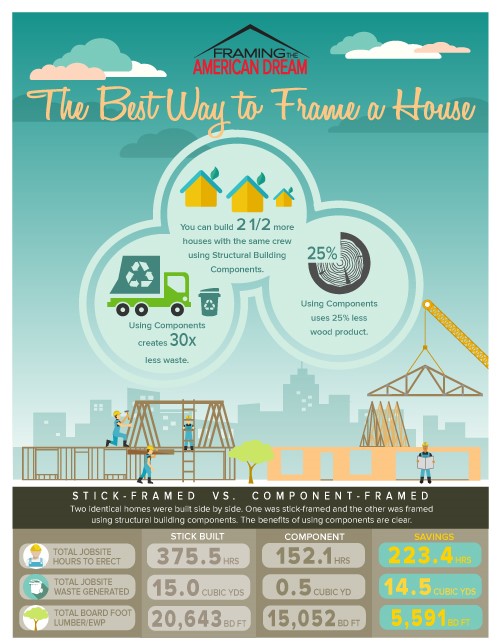 In 1995, SBCA set out to show how the use of building components is revolutionizing the building industry by comparing traditional stick-framing to the use of components through a project called, "Farming the American Dream." We did this case study again in 2005. SBCA will continue to look toward the future and see how structural building components of all kinds can be combined to create more automated, efficient means to build. If technology is out there that can support automation, CMs need to participate in the evolution of this kind of technology, and we will be at the forefront to help.