CM Shares Bracing Best Practices with Building Officials
Originally published by: SBC Magazine — April 30, 2018
by Kevin Kutschenreuter and Sean Shields
The following article was produced and published by the source linked to above, who is solely responsible for its content. SBC Magazine is publishing this story to raise awareness of information publicly available online and does not verify the accuracy of the author's claims. As a consequence, SBC cannot vouch for the validity of any facts, claims or opinions made in the article.
On April 12, John Goodrich, senior designer of Truss Engineering Corporation in Indian Orchard, Massachusetts, presented to building officials in Groton, Connecticut.
John, who has ample experience providing truss education for building officials, agreed to present after SBCA informed him a building official in his area was seeking someone who could provide truss information to inspectors. "I've been doing quite a few of these things," says John. "I do a presentation at UMass in the fall for the New England Building Officials Conference." At the conference, John helps building inspectors fulfill the continuing education requirements they must meet yearly in order to maintain their licenses.  "It's a great place to go and get all of your education units done…in the course of three days," says John. Recently, John has seen an increase in the number of local municipalities and inspector organizations seeking education similar to what he presents at the conference.
John's presentation in Groton lasted nearly two hours and consisted of material regarding New England regulations and the regular practices of truss manufacturers in the region. "What we focused on was how to properly read a truss design drawing," John says, giving attention to matters particularly relevant to building officials such as interpreting truss loading information, deflection, and other issues related to building code requirements. "From there…we went over the BCSI documents so that they understood…what they should be seeing for bracing in the field," says John. John says the subject of bracing tends to be a controversial point of discussion during his presentations. "The big issue always comes down to bracing."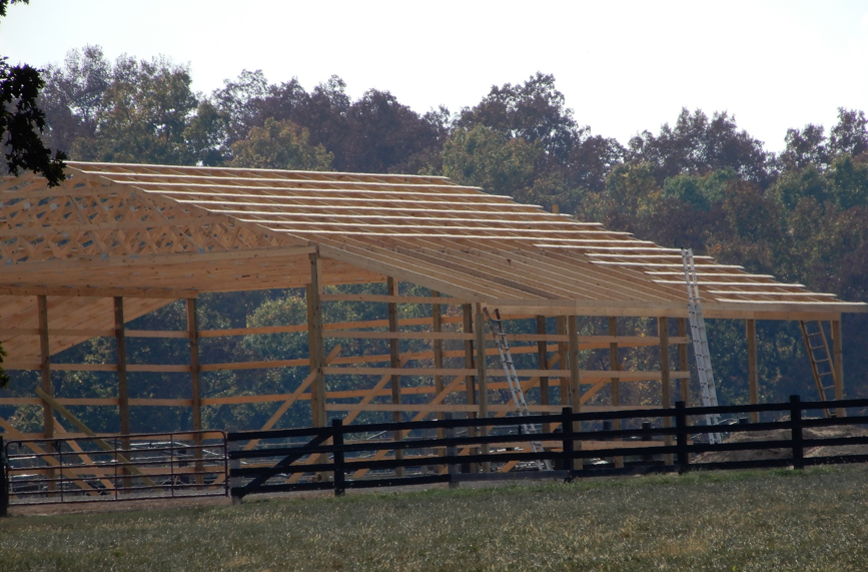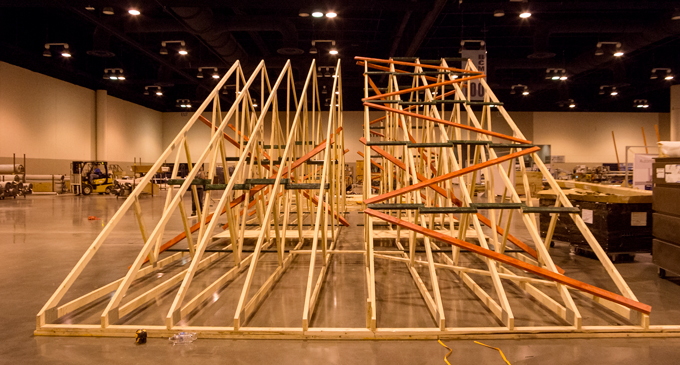 Bracing in the filed looks more like the picture on the left than it does the bracing in the demonstration pictured on the right.
Fortunately, SBCA has created a number of presentations and documents over the years to help component manufacturers (CMs) like John share good information on truss bracing. The reaction to his SBCA-based presentation was "very positive," he says, and adds, "They were very appreciative. They followed up with questions like, 'You know, this was great. Do you do this for homebuilders?'"
John is convinced that the presentations he gives are worth the effort from a long-term perspective. "The way that it benefits the industry is by increasing knowledge for everyone that affects the construction market. It creates a level and even playing field so that the expectations of the product and the way that it's handled in the field is the same regardless of who's making the trusses." John also says that if his presentations can help inspectors ensure that structures with trusses have been installed properly and are safer, that's ultimately good for the entire industry.
John recommends that others get involved and give similar presentations to their local municipalities. SBCA staff are always able and eager to help any CMs in this process. Whether it's giving a presentation or hosting a plant tour, SBCA has likely developed all the materials a CM would need to reach out to their market and improve awareness of issues ranging from bracing to jobsite storage.
"You're not going to see an immediate return on it, but it's an investment that will come back to you over time…a lot of these inspectors don't realize what goes into designing a truss and manufacturing a truss [and] still think that we're just randomly choosing what webbing pattern to use and randomly choosing what plates [to use], and we just kind of hope it doesn't fall down," says John. In contrast, "When you talk to them about what goes into [design and fabrication], it becomes a product that now they have a lot more confidence in…and they now like seeing it on jobs versus not seeing it, so it's a benefit to us all."
John says that building inspector organizations and municipalities will talk to each other about his presentations, leading to more opportunities for him to present in other areas of New England. "I do have another presentation coming up in another couple of weeks…in a different part of the state. This is something that they do talk to each other about…somebody will talk to a different group and the next thing you know we'll be getting a phone call to do it for somebody else."
Again, whether you want to offer to give a presentation to a group of local building officials, or give a plant tour that qualifies for CEUs, SBCA staff can help. Contact us today.
For more information on the recent work SBCA has done on truss bracing, read the following articles: