Charts: Building Material Costs Continue to Rise
Building material costs continues to increase, according to the U.S. Bureau of Labor Statistics' recent Producer Price Index report, and many are looking at ongoing trade disputes as a big part of the problem. 
Lumber has increased 53 percent since 2016, largely due to U.S. tariffs on imported Canadian softwood lumber and continued discussion over the Softwood Lumber Agreement (SLA). The cost of steel products has increased as a result of the recent 26 percent tariffs on imported steel, and the cost of Oriented Strand Board (OSB) products have increased due to demand and a delay in anticipated new production capacity. 
When it comes to lumber, NAHB CEO Jerry Howard told Fox Business tariffs on softwood lumber, and lack of compromise over the SLA, are pushing lumber costs higher and creating downstream effects that also contribute to higher costs, such as slow transportation of lumber into the marketplace. "It's ludicrous that a neighboring country like Canada is not being able to import into our country," Howard told FOX Business last week. "We are importing lumber from Russia to build our American homes – it just doesn'tmake sense."
According to NAHB, Increases for prices paid for softwood lumber (not seasonally adjusted) moderated in March after climbing 5.6% in February.  The softwood lumber price index has increased each month of 2018 by an average of 2.9%, compared to 2.3% over the same months last year.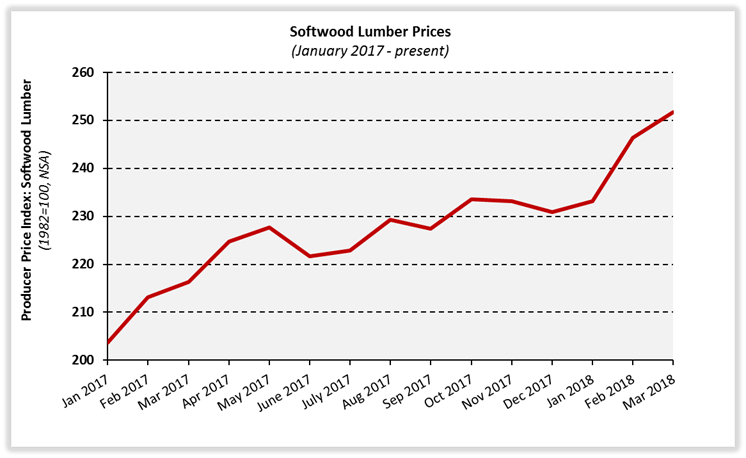 OSB saw a 9.3% increase in prices in March, after a 3.1% gain in February. After a three-month downward trend, OSB prices have risen 12.6% over the past two months.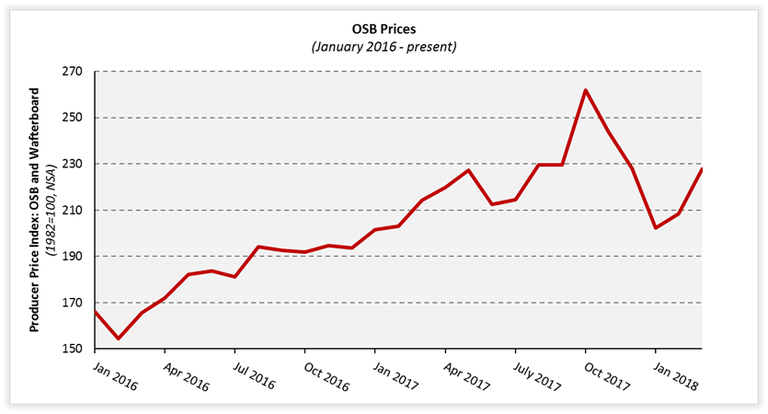 Despite these headwinds, NAHB Chief Economist Robert Dietz says there are some positive aspects as the residential construction labor force has increased by 144,200 over the last 12 months, and looks to expand further in 2018 as housing demand remains solid. Consumer confidence is growing — reaching an 18-year high in February — incomes are rising, and tax cuts are expected to boost budgets for approximately 80% of households.