Unique Framing Approach Saved These Houston Homes
Originally published by: Houston Business Journal — September 6, 2017

The following article was produced and published by the source linked to above, who is solely responsible for its content. SBC Magazine is publishing this story to raise awareness of information publicly available online and does not verify the accuracy of the author's claims. As a consequence, SBC cannot vouch for the validity of any facts, claims or opinions made in the article.
When Armando Saenz built his home in The Woodlands last year, the Houston radiologist thought that elevating his foundation, air-conditioning units and backup generator three and a half feet above the ground was "a little bit overdone."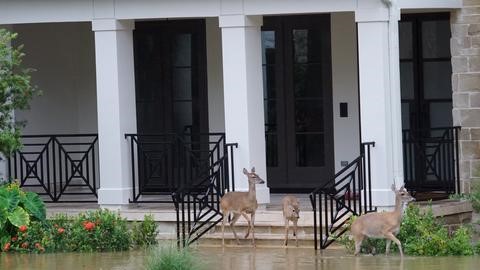 However, the developer, The Howard Hughes Corp. (NYSE: HHC), and the homebuilder, Frankel Building Group, required all 55 homes in The Woodlands Reserve be built on raised pier-and-beam foundations. While The Woodlands Reserve is not in the 100-year floodplain, the gated section sits just west of Spring Creek, which can overflow its banks during heavier rainstorms.
After Tropical Storm Harvey dumped 51 inches of rain over the Bayou City last week, Spring Creek overflowed its banks and flooded several neighborhoods north of Houston. However, all of the homes in The Woodlands Reserve— built on pier-and-beam foundations — were left unscathed by the rising floodwaters.
Unlike concrete slab foundations commonplace in Houston, the vented pier-and-beam foundations allowed floodwater to flow freely underneath the homes. The floodwater inundated streets, rose up onto lots and as designed, entered into the cinderblock garages — destroying some drywall and garage door sensors — but the elevated homes were spared.
Saenz came out of Harvey with damaged landscaping and some patching up to do in the garage, but his family's home and cars were safe and dry. Even at the floodwaters' highest point, Saenz estimates he had about a foot and a half of cushion left.
"My entire house was surrounded by water, which was moving pretty fast," said Saenz, who was one of two homeowners who remained in The Woodlands Reserve through the torrential rainstorms. "It was like I was in the middle of a river. I was super impressed with how the home was engineered. It was amazing."

In the wake of several major floods over the past three years — including Harvey — homebuilders in Houston are seeing a growing demand for elevated homes, particularly in flood-prone neighborhoods.
About half of the homes Frankel Building Group has built in recent years have been on pier-and-beam foundations, said Scott Frankel, a co-principal of the homebuilding company along with his brother Kevin Frankel. The Frankels, with the help of structural and civil engineers, have built more than 60 pier-and-beam construction homes in The Woodlands and Bellaire — all of which survived Harvey's floods.
"Pier and beam is a construction technique that many more people will take advantage of after Harvey," said Scott Frankel. " Anybody rebuilding in Bellaire or Meyerland will need to build high with this technique, because it's devastating to lose your home."
Pier-and-beam construction can cost an additional $10,000 to more than $50,000, depending on the size of the home and whether the master bedroom is upstairs or downstairs. However, many prospective homebuyers are now starting to believe the extra cost is worth the extra peace of mind, said John Leggett, CEO of On Point Custom Homes.
The Houston custom homebuilder is under construction on several pier-and-beam homes in Bellaire, Meyerland and Braes Heights. All of the homes made it through Harvey untouched by rising floodwaters, except for the ground-level garages, Leggett said.
"The one in Bellaire was about two weeks from finishing, but it was raised up four feet from the ground," Leggett said. "The homeowners are beyond excited."
About one in five homes that On Point builds today are built on pier-and-beam foundations, Leggett said. After Harvey, he expects there will be more homeowners asking for the elevated homes. A recent CoreLogic (NYSE: CLGX) study found that Houston homes are at an elevated risk for flooding this hurricane season.
"We need to re-evaluate this stuff," Leggett said of building techniques in flood-prone neighborhoods. "Unfortunately, homeowners are just going to have to do this."
For Saenz, pier-and-beam construction is how he plans to build any future homes near a bayou or creek.
"If I'm anywhere near a floodplain, I would definitely build up," Saenz said. "People should consider this, and it should be required in flooded areas. No question."