Lumber Yard to Component Sales: A Next Gen CM's Focus on Paying It Forward
Originally published by: SBCA — September 18, 2017

The following article was produced and published by the source linked to above, who is solely responsible for its content. SBC Magazine is publishing this story to raise awareness of information publicly available online and does not verify the accuracy of the author's claims. As a consequence, SBC cannot vouch for the validity of any facts, claims or opinions made in the article.
As SBCA focuses on the ongoing development of leaders, we will be introducing members of the emerging leaders committee through articles in Industry News and social media posts. Look for these individuals at the BCMC show in Omaha – hosting the Casino Game Night on Tuesday evening, leading some of the educational sessions on Wednesday morning and welcoming conversation in SBCA's booth on the show floor. Take a few minutes to learn more about their experiences in the industry and the value they find in participating in SBCA.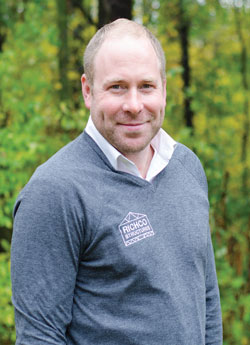 After ten years in the lumber industry, Justin Richardson, Sales Manager for Richco Structures in Haven, Wisconsin, has spent the past four years getting to know the structural building components industry. "We had sold roof trusses through our lumberyard, and I enjoyed the engineering and attention to detail that this business took," he remembers of the transition.
"As a newcomer to this industry, I felt the need to gain a macro view of what we are doing as a whole," Richardson says of his motivation to become involved in SBCA. "I've found that being involved on the national level gives you a perspective unique to that of local associations." One example of tangible value he's experienced this year included conversations at the Open Quarterly Meeting in Chicago about I-9 audits. "It was incredibly insightful and helpful for me to understand the big picture of what we as a country are facing in regards to the labor shortage," Richardson explains. He believes there is a lot to be gained from more people getting involved in SBCA's meetings: "I would really like to see the quarterly meetings grow with new faces eager to learn about our industry!"
On the home front, Richardson finds "the ability to share our success with our team members in the form of pay increases, profit sharing, time off, upward mobility or just the simple fry out" very fulfilling.  "Being able to pay it forward is by far the most rewarding aspect," he says, of working in the components industry. This sense of gratification was a strong theme in a "Faces of the Industry" article about Richardson that ran in the May 2016 issue of SBC Magazine.
What does your business stand to gain by getting more involved with SBCA? Find out at BCMC 2017 in Omaha or at SBCA meetings throughout the year.