Hurricanes Causing Building Material Prices to Rise
Originally published by: Bloomberg — September 15, 2017

The following article was produced and published by the source linked to above, who is solely responsible for its content. SBC Magazine is publishing this story to raise awareness of information publicly available online and does not verify the accuracy of the author's claims. As a consequence, SBC cannot vouch for the validity of any facts, claims or opinions made in the article.
Hurricanes Harvey and Irma, after delivering devastating floods and winds to parts of Texas and Florida, are forecast to re-emerge as a tropical depression on homeowner finances.
In their mad scramble to get back to normal, Texans and Floridians will find their recovery plans complicated by materials shortages and a tight labor market. Translation: residents can expect inflated price tags to rebuild.
The Atlantic hurricane season's two main weather events have inflicted an estimated damage of at least $143 billion in the two states, according to Chuck Watson at Enki Research in Savannah, Georgia. As homeowners begin to replace lost housing stock, they'll be doing so with building supplies such as boarding, drywall and framing lumber that were getting more expensive before the disasters.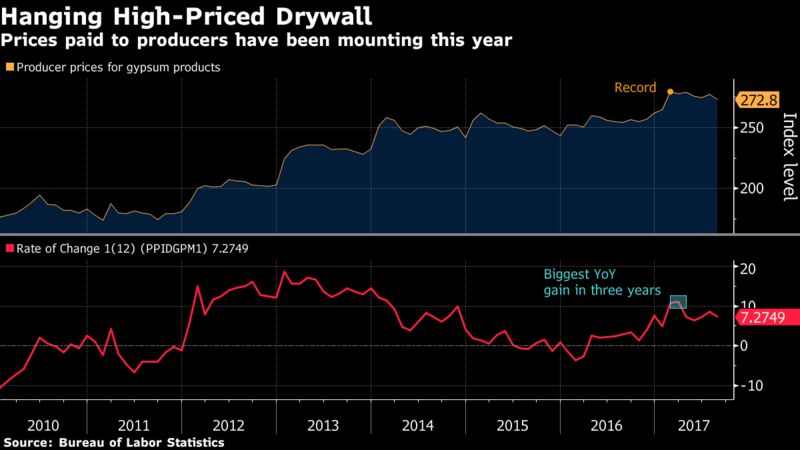 Gypsum panels such as USG Corp.'s Sheetrock brand that succumbed to floodwaters in the storm-ravaged states have to be removed and new panels installed, and likely at a higher price. The costs of lumber and wood products for framing and sheathing, which accounted for almost 20 percent of the price of building a home in 2015, have also climbed.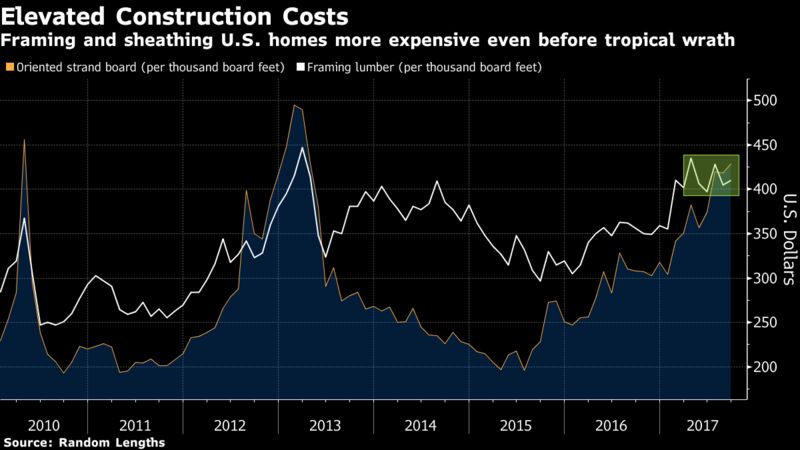 Homeowners who aren't do-it-yourselfers may have a harder time finding contractors to do the work, considering the thousands of damaged properties in a tight construction-labor market. The latest national data from the U.S. Labor Department shows more builders were looking for help in July, with so-called openings exceeding net hires by the most in a decade.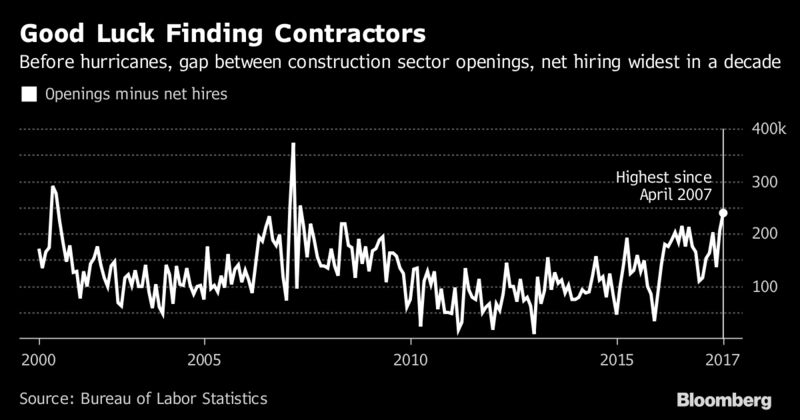 Apart from any inflationary aspects tied to rebuilding, construction industry payrolls may firm and retailers could see increased revenue. While recovery efforts will extend for a year or longer, a look back at the six months immediately after Hurricane Katrina in August 2005 shows a general pickup in construction industry employment, earnings and consumer spending on home goods.