Building Official Asks Framers, "Should This Pass or Fail?"
"Pass or fail?" asked Steve Rewey as he flipped through images of jobsites he's encountered as a City of Madison building inspector.

Rewey's photos drew a lot of laughs as he talked two dozen Wisconsin framers through some of the most common issues he red tags and how to avoid the ire of inspectors like himself. "Would you guys accept this?" he asked as he discussed what he looks for in terms of load paths, headers, beam placement, fire blocking and nailing patterns, and appropriate screws and wood types.
During his August 24 presentation, he encouraged his audience to shout out what was wrong with each photo and offer solutions. Then he followed up by explaining what various code required, when more restrictive provisions might apply, and even what was more or less of an enforcement priority for building inspectors.
Rewey answered questions and offered tips for specific scenarios, from the need for bridging on decks to the acceptable options for garage headers and portal frames. He also outlined a few best practices for avoiding red tags: before calling for an inspection, walk through the jobsite looking up and asking, 'does the load carry through to the foundation?' Double-check your truss manufacturer's nailing patterns and verify that bearing blocks are in the right place. Make sure your oriented strand board (OSB) is oriented correctly.
"I understand – it is tough to see these things," Rewey assured his audience. He had stories to tell of code details that had escaped his notice for years and site inspections where he'd notice a problem on one visit but be unable to locate it on the next. His message overall was that most of the problems inspectors see have common-sense solutions. "Is this going to cause a problem at all?" he asked as he went through his slideshow. The reaction from the audience was immediate and the nods continued as Rewey moved on to the next image and added: "That's what it should look like."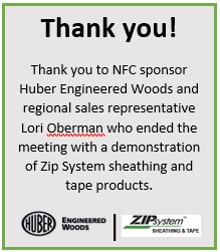 One topic Rewey put special emphasis on was truss bracing. Diagonal and gable bracing are both high on inspectors' priority list, he explained, and they're relying more and more on the BSCI summary sheets produced by SBCA and delivered with most truss packages. "What do we do when we get instruction sheets?" Rewey asked his audience. "We pitch 'em!" he laughed, answering his own question. But, he added, inspectors really will be asking to refer to them during jobsite inspections, so framers wanting to avoid red tags need to hold on to the instructions, follow them closely and be ready to produce that paperwork when the building inspector visits the jobsite.
"When the truss manufacturer says 'brace these webs,' you do need to put diagonal bracing in," Rewey noted, adding that a lot of engineering science backs up current bracing guidelines. Old recommendations, he explained, were based on single-truss testing. As testing laboratories grew bigger, whole-house tests became feasible and the results of that testing led to improved bracing methods that are critical to structural stability.
Attendees stuck around to network after Rewey's presentation. A few had additional questions about their projects, and many had follow up questions for Executive Director Chris Tatge about NFC membership, FrameSAFE subscriptions and the ongoing work of the safety committee, which Tatge reported has just released a third, expanded version of the FrameSAFE manual. After attending a meeting as informative as this one and hearing Tatge's vision for how the NFC can direct the future of the framing industry, joining the organization was the logical next step for Dan Juderjahn of Wisconsin Building Supply. "It's just worth it," he said as he picked up an application.