Demilec Recognized for Building Product Innovation
Originally published by: SprayFoam.com — October 11, 2017

The following article was produced and published by the source linked to above, who is solely responsible for its content. SBC Magazine is publishing this story to raise awareness of information publicly available online and does not verify the accuracy of the author's claims. As a consequence, SBC cannot vouch for the validity of any facts, claims or opinions made in the article.
Demilec, one of North America's largest manufacturers of spray foam insulation and polyurea products, has earned Home Builder Executive magazine's 2017 Gold Innovation Award for its industry leading product developments, including Heatlok HFO High Lift spray foam insulation and Heatlok Air Barrier System (ABS). The award recognizes companies that promote excellence in homebuilding practices by instituting new products, initiatives and technologies into the marketplace and communities.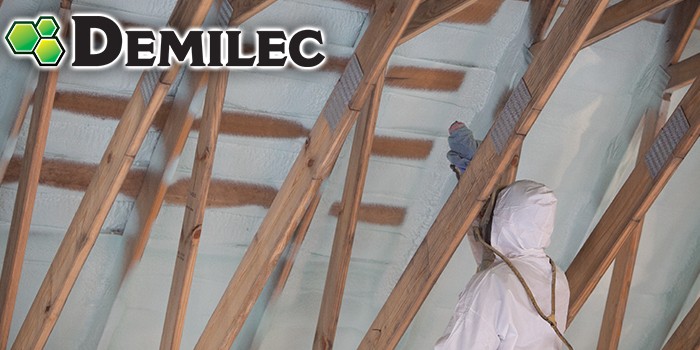 "This is the second consecutive year that Demilec has been recognized as one of the top industry innovators by Home Builder Executive. Earning this award encourages us to keep surpassing market expectations while we find new ways to protect the environment and save our customers most valuable resource — time,"  said Doug Brady, Vice President of Strategic Marketing at Demilec. 
Demilec's Heatlok HFO High Lift is the company's first product formulated with Honeywell's Solstice Liquid Blowing Agent, a hydrofluoroolefin (HFO) molecule that reduces its Global Warming Potential (GWP) to 1 -- 99.9% lower than the HFC blowing agents it replaces. With its high-performing green components, Demilec's Heatlok formula can earn commercial and residential projects up to ten LEED certification points.
In another first for Demilec and the industry, Heatlok ABS is the only complete air barrier and spray foam insulation system. Previously, architects and general contractors were faced with conflicting information and no single authority about membranes and spray foam insulation. Demilec has taken a much-needed systems approach to material testing and installation to now offer architects and contractors perfectly-matched spray foam insulation and air barrier materials that have been independently tested and approved as a single system.
Additionally, Heatlok ABS creates a solid airtight barrier against air infiltration and exfiltration thereby minimizing issues associated with energy loss and condensation.