Safety in High Winds: Brought to You by the Letter 'W'
Originally published by: National Framers Council — March 22, 2017

The following article was produced and published by the source linked to above, who is solely responsible for its content. SBC Magazine is publishing this story to raise awareness of information publicly available online and does not verify the accuracy of the author's claims. As a consequence, SBC cannot vouch for the validity of any facts, claims or opinions made in the article.
While this time of year may be great for flying kites, spring is an important season for a refresher on how to keep everything else on the jobsite from blowing away. As with most safety issues, staying safe in high wind conditions boils down to knowing the regulations, following industry best practices and common sense.
OSHA defines "high wind" as a wind of such velocity that one or more of the following hazards would be present: the wind could blow an employee from an elevated location, the wind could cause an employee or equipment handling material to lose control of the material, or the wind would expose an employee to other hazards not controlled by the standard involved. "High wind" normally indicate winds exceeding 40 miles per hour. However, if the work involves material handling then "high wind" would be defined as winds exceeding 30 miles per hour, unless the employer takes precautions to protect employees from the hazardous effects of the wind.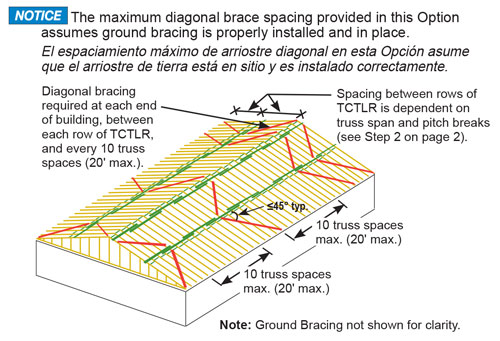 Chris Tatge, Executive Director for the National Framers Council (NFC), reminds framers about the importance of proper installation for keeping trusses up when faced with high wind conditions. "It's all about taking the time for temporary bracing," he explains. "The BCSI B2 document from the Structural Building Components Association (SBCA) on truss installation and temporary restraint/bracing is something I've referenced regularly over the years to help answer questions on the jobsite."
Tatge says diagonal bracing is key, whether it's windy or not. "It's all about the 'W,'" he explains as he references step 8 of the B2 document. "The more connections that are made when applying temporary bracing to the truss system, the better." 
NFC's FrameSAFE program currently includes two Toolbox Talks that outline the basics every crew should know: "Working in High Wind" and "Securing the Jobsite." Visit the NFC website for more information and to subscribe to FrameSAFE.