DuPont Tyvek's Three New Flashing Systems Easier to Install
Originally published by: DuPont — June 8, 2017

The following article was produced and published by the source linked to above, who is solely responsible for its content. SBC Magazine is publishing this story to raise awareness of information publicly available online and does not verify the accuracy of the author's claims. As a consequence, SBC cannot vouch for the validity of any facts, claims or opinions made in the article.
DuPont Tyvek launches three new DuPont Flashing Systems products in convenient, shorter roll lengths that are ideal for smaller jobs or single-use application. The new size options are DuPont™ Flashing Tape in a 4-inch wide x 33-foot roll, DuPont™ FlexWrap™ NF in a 9-inch wide x 15-foot roll, and DuPont™ StraightFlash™ VF in a 6-inch width x 25-foot roll. These new sizes are ideal for single-use projects, or smaller applications, when flashing doors, windows and exterior penetrations (e.g., HVAC, electrical and plumbing materials) require a specific amount of flashing for the job.
The new roll lengths are designed for the most common dimensions of standard sized windows and doors, see details below:
DuPont™ Flashing Tape – a durable, self-adhering flashing tape and the 4" x 33' roll is ideal for flashing either a standard flanged door up to 6' 8" high x 5' wide, or a flanged window up to 6' high x 7' wide, excluding the sill flashing.
DuPont™ FlexWrap™ NF – the original flexible, extendable self-adhesive flashing and the new 9"x15' roll is suitable for flashing two 6' wide window or door sills, or flashing an arched window top and sill, as well as exterior wall penetrations such as electrical, HVAC and plumbing areas.
DuPont™ StraightFlash™ VF – a unique double-sided flashing for a durable seal around non-flanged or brick-mold doors and windows. The 6"x 25' rolls contains enough to flash one 6'8" tall x 5'8" wide standard door, or one tall door up to 8' tall x 4'4' wide, or windows up to 6' tall x 7' wide, excluding the sill flashings.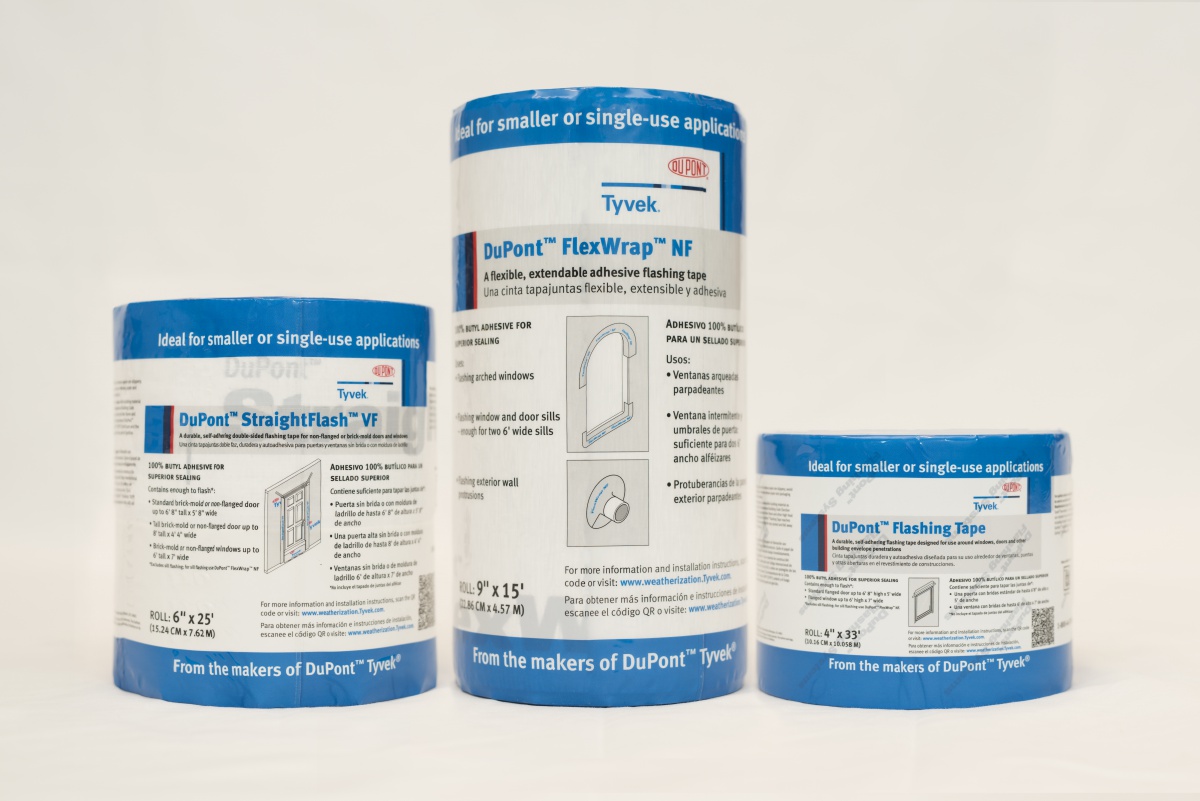 DuPont™ Flashing Systems products are available nationwide where DuPont™ Tyvek® weatherization systems are sold. Find a dealer near you by visiting the DuPont™ Tyvek® Dealer Locator.