QuickTie's New Masonry Tie-Down System Eases Installation
Originally published by: QuickTie Systems — January 30, 2017

The following article was produced and published by the source linked to above, who is solely responsible for its content. SBC Magazine is publishing this story to raise awareness of information publicly available online and does not verify the accuracy of the author's claims. As a consequence, SBC cannot vouch for the validity of any facts, claims or opinions made in the article.
The QuickTie System is a roof and wall anchoring system consisting of wire rope and threaded studs swaged to each end. One of the threaded studs is embedded into cured concrete by inserting it into a predrilled hole and using epoxy adhesive to anchor it to the foundation. The opposite end of the wire rope with the threaded stud is extended vertically to the uppermost top of the masonry wall, inserted through a hole drilled through the wood top plate(s), and attached to a steel plate and nut that are placed on top of the top plates(s). The nut is then tightened providing a continuous load path hold down resistance for the wall. Trusses are connected with Quick Connectors to provide distribution of load to the QuickTie System.
The advantages for Masonry Construction:
Eliminates all vertical and horizontal steel and concrete reinforcing (including reinforcing in most lintels.)
Cuts days out of the construction cycle.
Eliminates steel re-bar dowels from the foundation.
Eliminates coordination and laying out embedded truss anchors.
One less visit by the building inspector to the job.
Connects wood 2nd floor to masonry 1st floor by creating a continuous load path from second floor by coupling QuickTies in the wood frame to masonry QuickTies (all connectors are contained inside the wall cavity and do not interfere or create cracks in the finish materials.
Easy, quick installation.
Quality proven, engineered products.
SAVES $$$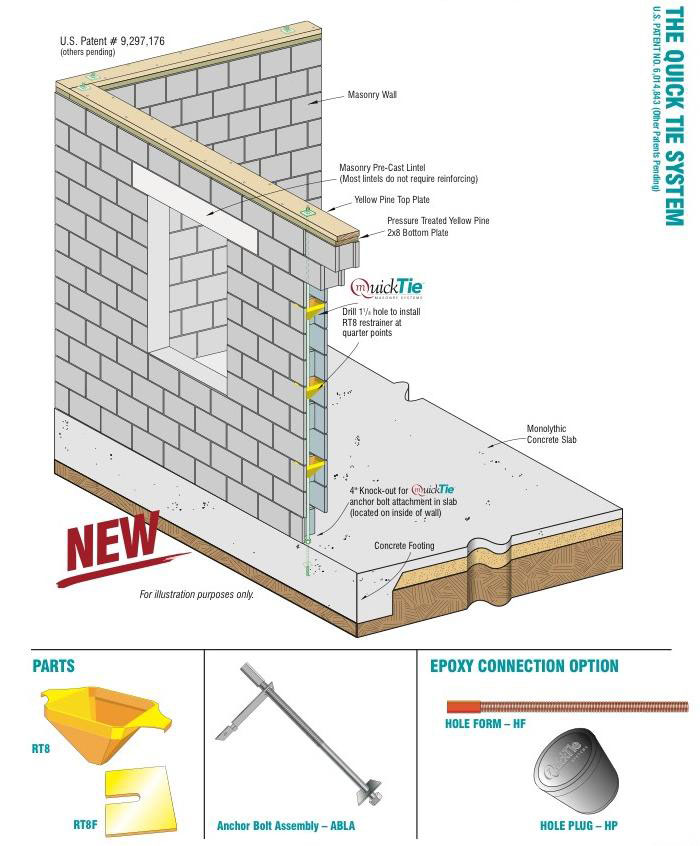 Quick Tie Products, Inc. is a privately held company specializing in its own brand of proprietary high wind and seismic tie down systems for wood framed and masonry construction. The company is based in Jacksonville, Florida, and has been in business since September 1999.
If you would like more information about this topic, please contact Elizabeth Buchanan at (904) 281-0525 or email at ebuchanan@quicktieproducts.com.