What's Behind the Recent Softwood Lumber Cost Surge?
Lumber costs in 2017 have not followed normal seasonal patterns for component manufacturers. This is on top of lumber costs steadily increasing since 2012. As an example, here's a graph of lumber costs for 14-foot Southern Yellow Pine (east side), #2 (as published in Random Lengths on page 6--Southern Pine, Kiln Dried, East 2x4 #2):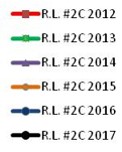 The cost of this product has more than doubled over that time period, with historic levels being reached throughout 2017.  Paul Jaanke of Forest Economic Advisors attributes much of the recent cost surge to speculation around the Canadian softwood lumber duties and recent natural disasters:
"First, lumber buyers cut back on buying in August in anticipation of the gap period on duties. This caused inventories to decline. Second, fires out west and hurricanes in the south slowed logging and reduced mill output. Finally, buyers began to anticipate increased lumber consumption as Texas and Florida rebuild in the wake of the hurricanes. Low inventories and anticipated increases in consumption led to increased ordering, while reduced production limited mills' ability to meet the increased demand, driving prices up."
Certainly, another thing at play is the significant consolidation that has occurred in the lumber production industry over the past five years. Each year, fewer companies control more of North America's softwood lumber supply, which isn't a good thing for lumber consumers.
Industry experts believe lumber costs have neared their peaks, but as current trends are bearing out, the costs continue to rise.  Jaanke does provide this positive analysis:
"It will take longer than expected for communities to rebuild following the hurricanes, and the number of homes that will need to be rebuilt won't be as large as the media is currently reporting…the fires in the US West and British Columbia have subsided, allowing loggers back into the woods. As salvage operations pick up steam, timber supply [should] actually increase."
As overall consumption experiences a seasonal dip in the first quarter of 2018, lumber costs may finally experience a decrease.
SBCA will continue to monitor this situation and provide graphs and related analysis to its members in 2018.