MiTek Doubles the Efficiencies of its Special Moment Frame
Originally published by: MiTek USA — February 21, 2017

The following article was produced and published by the source linked to above, who is solely responsible for its content. SBC Magazine is publishing this story to raise awareness of information publicly available online and does not verify the accuracy of the author's claims. As a consequence, SBC cannot vouch for the validity of any facts, claims or opinions made in the article.
MiTek's New "Picture Frame" Provides Four Special Moment Connections, Enabling Smaller Member Sizes and Significantly Increased Capacities
MiTek® USA announced today that Hardy Frame® has added an innovative design to its Hardy Frame Special Moment Frame (SMF) product offering.  By designing and fabricating the beam-to-column SMF connections – at the top and the bottom of the frame – the efficiencies in the utilization of the column are significantly increased.  With increased column efficiencies, the designer can economize special moment frame member sizes, the number of frames required in a wall line, or achieve higher capacities when lateral forces are high and shear-load demands are extreme.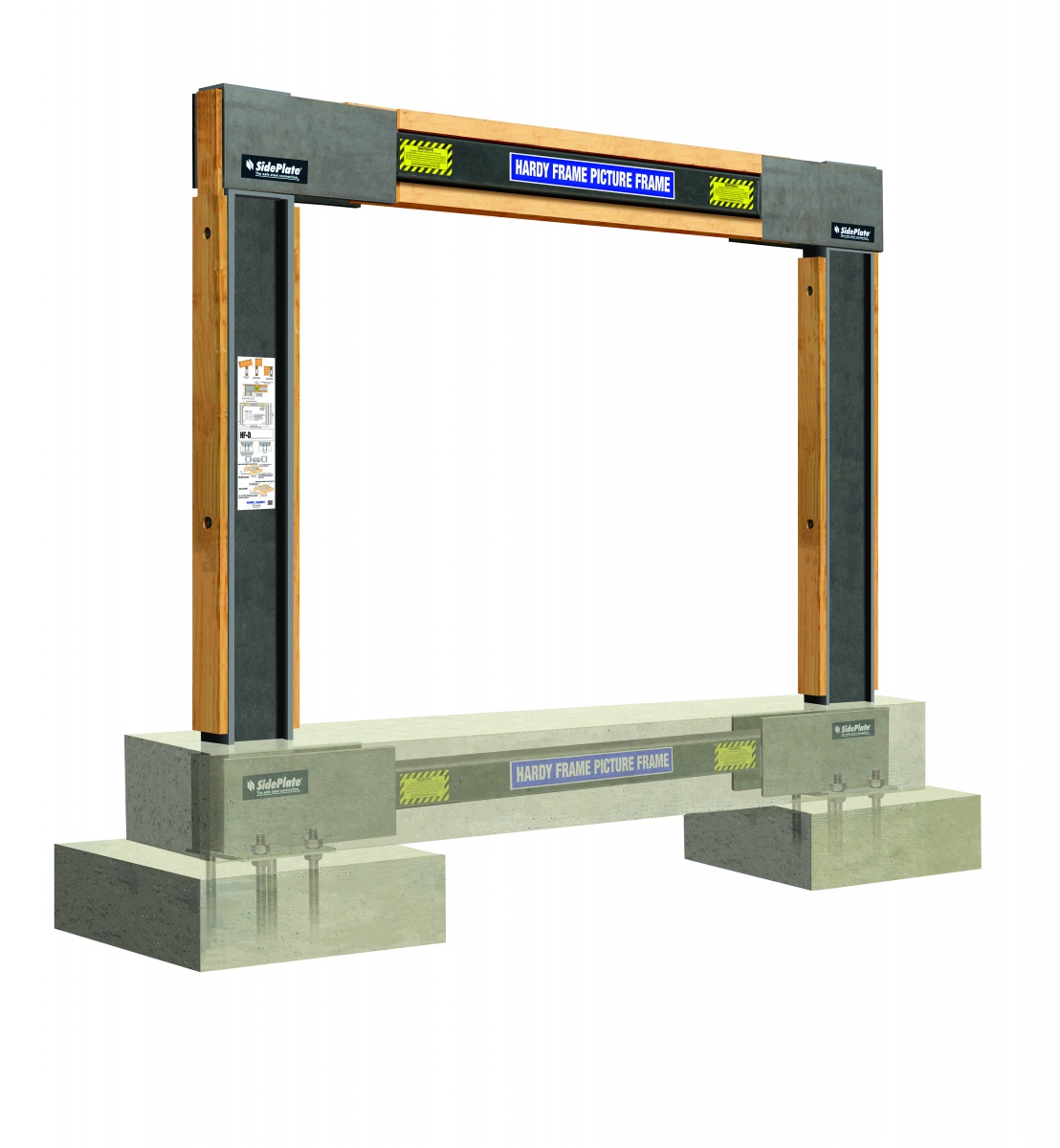 ​
MiTek USA's Hardy Frame Shear Wall System has long offered Hardy Frame Prefabricated Narrow Shear Wall Panels and Hardy Frame Prefabricated Special Moment Frames, along with installation accessory items, steel connectors, post installed epoxy and cast-in-place anchoring solutions.  The Hardy Frame Shear Wall System is now expanding to include the new "Hardy Frame Picture Frame," a four-sided special moment frame with special moment connections at all four corners.  Anchorage to the concrete for tension and shear can be a simple pinned base.  The innovative addition of a beam with special moment connections (which replaces the need for an engineered, steel-reinforced concrete grade beam) provides the advantages of a fixed base connection, along with an easier field installation and reduced need for inspections.
Interest in Hardy Frame Special Moment Frame design solutions is at its highest point since the product was introduced in 2008 due to "soft story retrofit" ordinances adopted within a growing number of California building jurisdictions.  MiTek has developed a new special website (link) for all soft-story retrofit related issues to showcase its structural retrofit solutions: http://www.HardyFrame.com/softstory.  (A recent illustrated Journal of Light Construction feature article explains the Hardy Frame SMF installation process, in detail.)
"With this exciting innovation, we now offer Hardy Frame products to meet engineers' daily design challenges, from creating architectural openings for large windows and doors for new structures, to strengthening soft story buildings for preparation of severe seismic events," said Maged Diab, President of MiTek USA.
About MiTek Builder Products
A division of MiTek USA, Inc., MiTek Builder Products integrates a number of businesses, building products, and brands, which MiTek has assembled after a remarkable series of acquisitions.  These product brands include USP Structural Connectors, the Z4 Tie-Down System, and Hardy Frame, as well as design software solutions for decks.  Also offered through the MiTek Builder Products division is SAPPHIRE™ Supply, an estimating and design module within the MiTek SAPPHIRE software suite. Learn more: MiTekBuilderProducts.com
About MiTek
MiTek is a diversified global supplier of software, engineered products, services, and equipment to the residential, commercial, and industrial, construction sectors.  MiTek Industries' passion for its associates' well-being and its customers' success is the company's hallmark.  A Berkshire Hathaway company (NYSE: BRK-A, NYSE: BRK-B) since 2001, MiTek has operations in more than 40 countries on six continents. Learn more: MiTek-us.com and MII.com.