Banks Becoming Worried About Multifamily Lending
Originally published by: Financial Times — April 11, 2017

The following article was produced and published by the source linked to above, who is solely responsible for its content. SBC Magazine is publishing this story to raise awareness of information publicly available online and does not verify the accuracy of the author's claims. As a consequence, SBC cannot vouch for the validity of any facts, claims or opinions made in the article.
More than a million new apartments have sprung up across the US in a post-crisis construction surge. Now bankers who funded the boom are worried: have developers built too much?
As concerns grow about a supply glut, financial watchdogs this month began scrutinizing how the largest lenders would cope with a property market crash.
Officials at the Federal Reserve ordered banks to set out how they would fare if commercial real estate (CRE) prices dropped 35 per cent and rental apartment values collapsed by more.
While a simulated property downturn has long been part of banks' annual "stress tests", the Fed has made CRE risks a bigger focus this year, reflecting increasing worries that bubbles are forming in parts of US real estate.
Eric Rosengren, head of the Boston Fed, last month singled out "trendy" apartment buildings in big cities, highlighting that prices had "increased sharply". Other policymakers, including Fed chair Janet Yellen and comptroller of the currency Thomas Curry, have also made cautionary comments.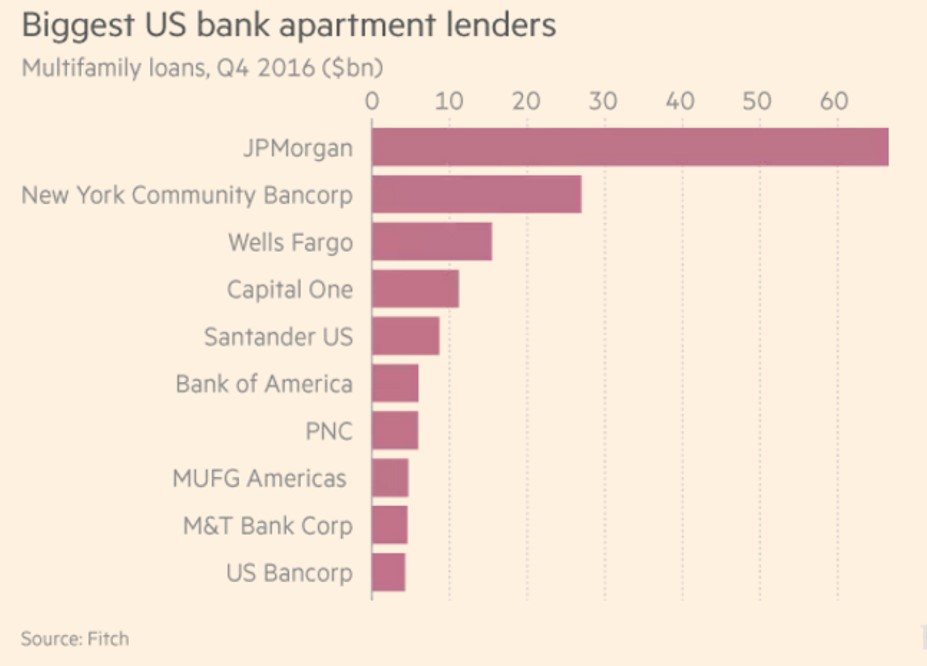 Almost a decade since the financial crisis — when CRE prices dropped as much as 40 per cent, even more than residential housing — bankers as well as regulators are again growing nervous about the sector.
"We're being very wary of it right now," says Mary Ann Scully, chief executive of Maryland-based Howard Bank. Referring to the crisis, she adds: "The wound has healed, the scab is gone, and we [as an industry] are thinking this isn't such a bad asset class after all — but we often have shorter memories than we should."
Banks have piled in to funding apartment rentals — especially upscale developments in big city centers — partly because post-crisis regulation has put them off residential mortgages. Demographic factors — millennials are more likely to rent downtown than buy in the suburbs, for instance — have also fueled the boom.
By the end of last year, US banks and other depository institutions had extended $2tn worth of CRE loans, a category that includes offices and retail space as well as "multifamily" apartment buildings, according to data specialist CoStar. While the pace of expansion has slowed in recent months, balances are still up more than a third in just four years. Within the category, multifamily loans were especially fast-growing, rising 63 per cent.
Bank funding has helped developers build roughly 1.5m apartments since 2011, according to Axiometrics. Last year more units became available as a proportion of the total market than any year since 2000, according to Deutsche Asset Management.
As a result, the banking system has become more vulnerable to a market shock. The value of multifamily loans on lenders' balance sheets now equates to about a quarter of commercial and savings bank capital of $1.6tn, the buffer against losses, according to CoStar.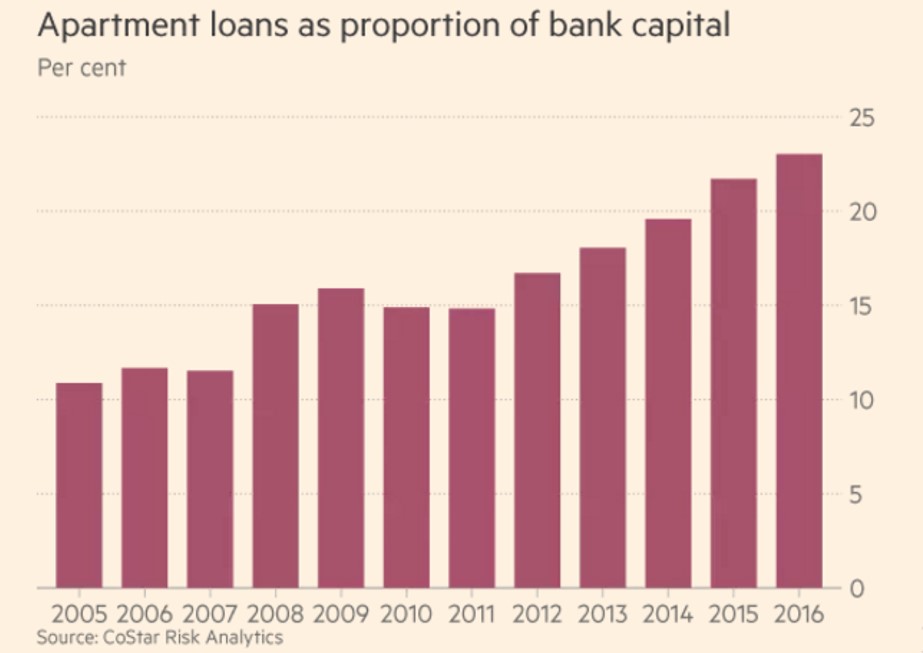 Commercial property has caused big problems for banks before. A study by the Federal Deposit Insurance Corporation over 26 years found that lenders which specialize in the sector are more than twice as likely to collapse than the average community bank.
As well as making CRE a central part of this year's stress tests for the biggest banks, regulators are also scrutinizing smaller lenders. The Office of the Comptroller of the Currency says the loan books of smaller banks are especially concentrated in CRE.
Chandler Howard, chief executive of Liberty Bank in Connecticut, has noticed a rise in risky lending practices. "When we're trying to compete, we see term sheets coming through with interest-only transactions, terms going out longer and longer, some loosening in guarantees," he says.
Not everyone is so concerned. Michael Bull, chief executive of the Atlanta-based CRE broker Bull Realty, says the pressure on banks from regulators trying to prevent a crash could become self-fulfilling. "I think they're more worried than they should be, and you can create a downturn by slowing down the lending."
For now, signs are few of financial distress among developers. Borrowing costs are still cheap and the economy is humming, so developer delinquency rates are near historic lows.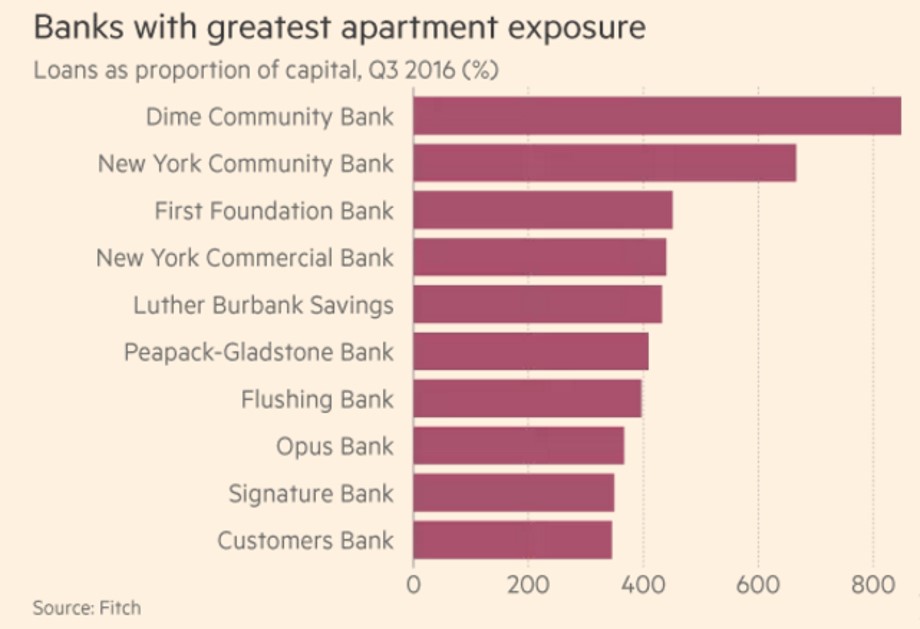 But some industry old hands warn the market can turn quickly and say there are signs that trouble may lie ahead. Kevin White, head of investment strategy at Deutsche Asset Management's real estate business, says that while the market looks positive "in the rear-view mirror": "You've seen construction which could cause problems down the road. We're starting to see that emerge."
Building values have been rising for about eight years: CRE prices have more than doubled from a 2009 low to reach near-record highs, according to Green Street Advisors.
At the same time, property developers' rental income has failed to keep up. This has pushed the so-called capitalization rate — a measure of returns — to the lowest level in 16 years.
"Increases in prices would not be as problematic if rental income were rising commensurately," notes Mr Rosengren of the Boston Fed. In a sign of investors becoming more cautious, CRE prices have plateaued recently and edged down 0.5 per cent last month.
Although there remains a shortage of affordable housing in big cities, landlords who own more upscale properties in markets including Manhattan have begun offering concessions, such as two or three months' rent free. Vacancy rates, especially for larger luxury apartments, are on the rise.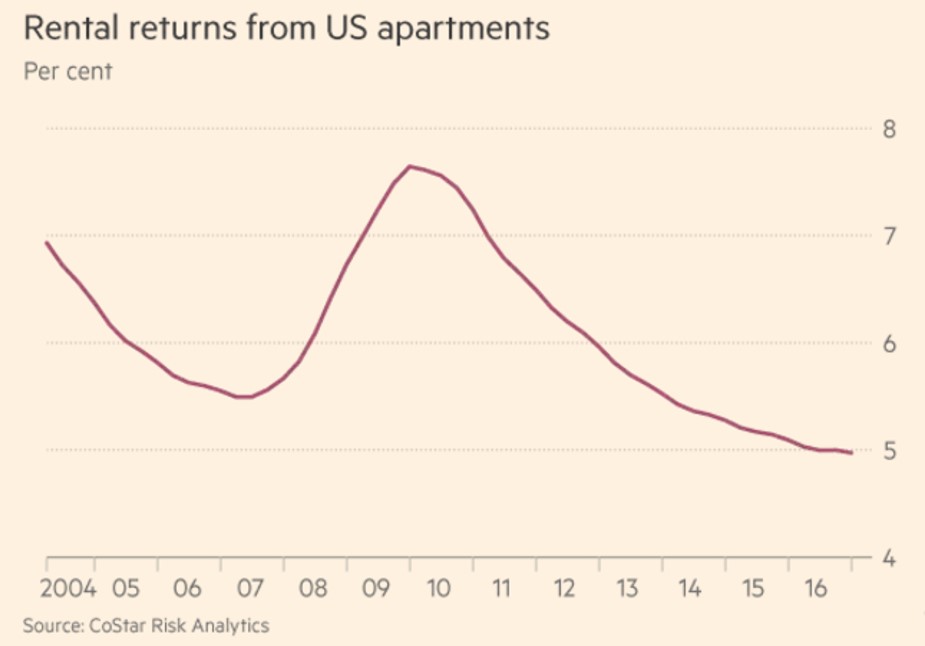 Scrutiny from Washington watchdogs has already caused banks to pull back. CRE loans in New York shrank 17 per cent last year to $82bn, according to CrediFi. New York Community Bancorp, the city's largest CRE lender in 2015, shrank its loan balances by more than half.
With the regulatory spotlight still on the industry, banks are expected to remain cautious. A survey by the Fed of senior loan officers at US banks found that almost half expect to tighten apartment rental lending standards this year.
Regulators are right to be concerned, says Mr Howard of Liberty Bank. "When you add it all up — high concentrations, markets that have been appreciating fairly significantly, not a lot of cash invested by developers — it [the concern] is legitimate."