4 Charts Illustrate Nation's Housing Inventory Struggles
Originally published by: Bloomberg — March 27, 2017

The following article was produced and published by the source linked to above, who is solely responsible for its content. SBC Magazine is publishing this story to raise awareness of information publicly available online and does not verify the accuracy of the author's claims. As a consequence, SBC cannot vouch for the validity of any facts, claims or opinions made in the article.
The paucity of houses on the market remains a nagging hurdle for those Americans interested in trading up or looking to take their first step into homeownership.Bottom of Form
With a limited number of property listings amid solid demand, sellers have little reason to reduce asking prices. From December through February, less than four months' supply of existing houses were on the market, compared with a post-recession high of about 12 months' worth in mid-2010, according to the National Association of Realtors. Yes, interested sellers take their homes off the market during the winter, but such a lean supply over a similar time frame has never been recorded in about two decades of data.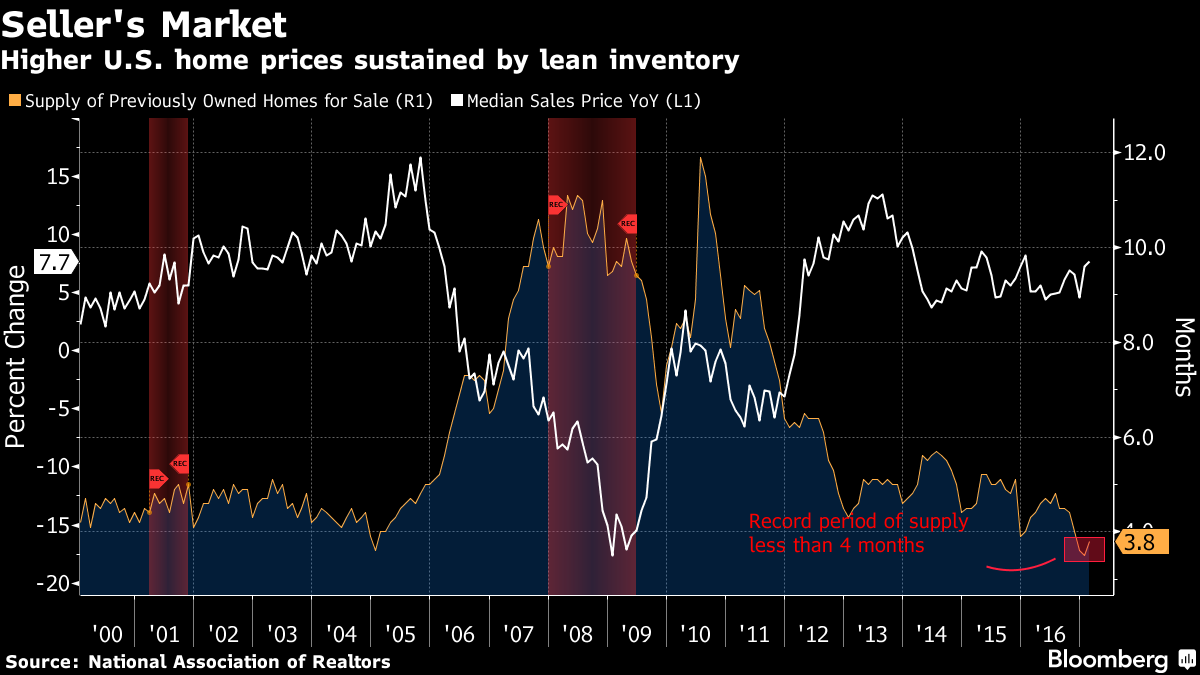 The pace of income growth is lagging behind that of property values. Combined with the sting of higher asking prices, affordability constraints mean rental demand will remain robust, allowing investors to maintain a solid foothold in the market, according to Lawrence Yun, NAR's chief economist.
The median price of a previously owned home sold in February was 7.7 percent higher than it was 12 months ago. In comparison, after-tax household incomes, adjusted for inflation, were up just 2 percent year-over-year in January, the weakest gain since 2014.
Higher borrowing costs aren't helping either. The average nationwide 30-year fixed-rate mortgage stood at 4.23 percent in the week ended Thursday. That means the monthly payment for each $100,000 borrowed would cost almost $50 more than it did as recently as October, when the rate was 3.42 percent.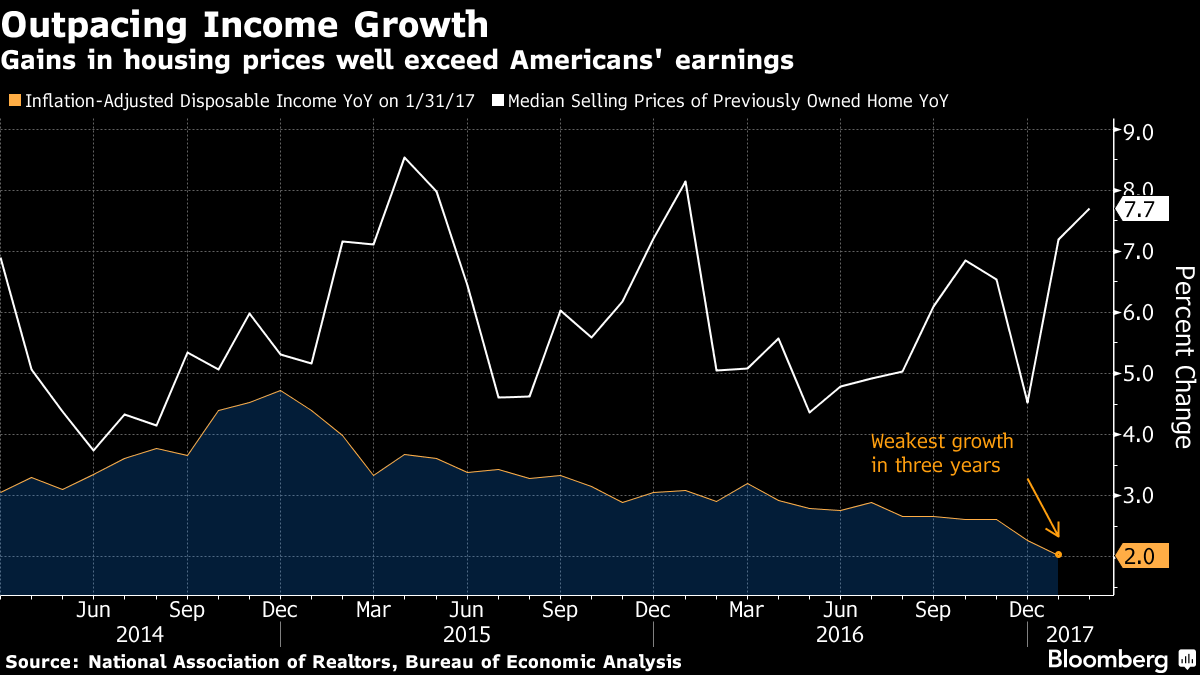 Homebuilders could fill the inventory void by starting work on more properties and giving trade-up buyers more options that would help alleviate a shortage of previously owned properties. While starts of single-family dwellings may be the strongest since 2007 and the number of new homes for sale the highest in almost eight years, they're well off the peaks reached a decade ago.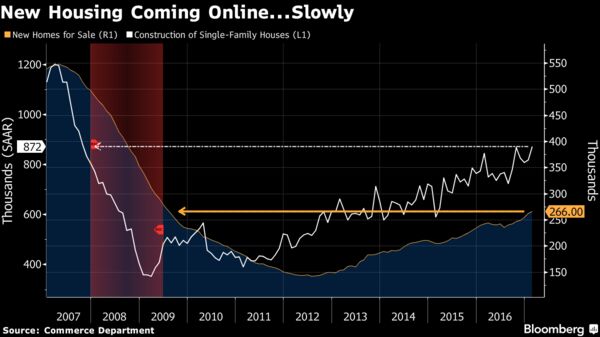 Demand is certainly in place. A University of Michigan survey released Friday showed 80 percent of respondents in the first quarter thought that now was a good time to buy a house, a larger share than in 2005 at the height of the last housing boom. At the same time, 66 percent believe now is a good time to sell. While that's more respondents than last year and reflects higher prices, it's below the 72 percent share recorded in 2005.
"The data suggest that increases in the number of available homes for sale will ease but not erase the inventory constraint on the housing market," Richard Curtin, director of the Michigan survey of consumers, said in a release.