ReWall Reuses Refuse Responsibly
Originally published by: Huffington Post — January 18, 2012

The following article was produced and published by the source linked to above, who is solely responsible for its content. SBC Magazine is publishing this story to raise awareness of information publicly available online and does not verify the accuracy of the author's claims. As a consequence, SBC cannot vouch for the validity of any facts, claims or opinions made in the article.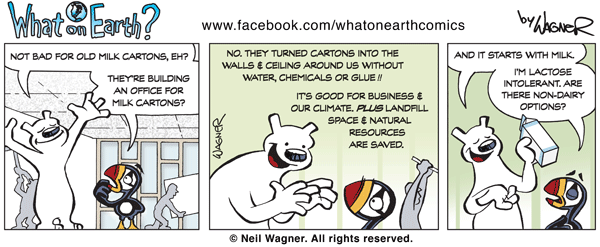 Construction statistics are often used as indicators of our economy's well-being. Unfortunately, construction can also do its fair share of harm to the environment. But there are encouraging signs that business opportunity and climate-friendly technology don't have to be mutually exclusive. They can flourish together, as Bebbo and Kito have previously discussed on more than one occasion.
ReWall Company, the inspiration for today's comic strip, is an Iowa-based manufacturer using European technology to take the stuff we ate out of yesterday and make the stuff we use to build the stuff we'll live in tomorrow. Polyethylene-coated cartons and cups, typically bound for landfills, are used to fabricate construction materials without water, glue or chemicals. Not only that, but as ReWall Director of Sales Ben Hershey tells What on Earth, the process uses 86% less energy than that used to produce drywall (gypsum).
Hershey, whose extensive background is in traditional construction materials, emphasizes the significance of using post-consumer waste. "I was amazed when I found out that 2 million tons of cartons -- just like the ones I always dropped in the recycle bin -- are going to the landfills, instead of being recycled."
But news of more sustainable construction extends beyond manufacturing. The Green Building Council has bestowed LEED (Leadership in Energy and Environmental Design) Platinum certification on major buildings, such as One Bryant Park (2004), New York's second tallest building, and also its greenest. But green certification is not just a young building's game. The Empire State Building (1929), and the U.S. Treasury Building (1842), have both been honored with Gold LEED certification.