Nothing Tops this Truss?
Originally published by: Black Hills Pioneer — April 14, 2012

The following article was produced and published by the source linked to above, who is solely responsible for its content. SBC Magazine is publishing this story to raise awareness of information publicly available online and does not verify the accuracy of the author's claims. As a consequence, SBC cannot vouch for the validity of any facts, claims or opinions made in the article.
DEADWOOD — There are log trusses and then, well, there's the 80-foot behemoth log truss recently handmade over a 10-week period by the blood, sweat and tears of two Deadwood Log Homes workers: owner Rick Johnson and employee Josh Chipman.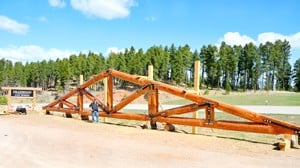 It's big and bold — and up close, it's absolutely beautiful.
"The tree they get is the way God made 'em," Johnson said, running his hand over one of the warm amber-colored logs used in the construction of the Guinness Book of World Records-worthy giant. "It's stained and two coats of clear."
Handmade of 26 dead, standing ponderosa pine logs (the only material Johnson will work with as it minimizes shrinkage problems), ranging in size from 26 feet to 28 feet in length, standing 12 feet high from the bottom cord to the top and ultimately exceeding eight tons in weight, the truss will serve as the gateway to a new 150-foot wide by 300-foot long Farmers Union Oil store being constructed in Velva, N.D. this summer.
"It's eight tons of weight suspended 10 feet in the air," Johnson said. "I mean, people are going to walk under it and drive under it, so it's got to stand the test of time."
Johnson constructed the truss for contractor Mattson Construction of Minot, N.D., which contacted him last summer to bid on the job.
After receiving the architect's drawings, Johnson re-engineered them to ensure the structural integrity of the piece and proceeded to begin building the behemoth on Feb. 20.
"We built it laying down," said Johnson, who boasts 25 years in the truss building business. "And after we bolted and stained that side, we stood it up and bolted and stained the other side."
Once he got into the thick of the massive project, Johnson began questioning whether or not the truss may be a record setter. So he contacted the Guinness Book of World Records and paid his application fee of $265.
"They've got to send out their team to verify the measurements and that costs another $400, but from what they said, it could be the largest log truss in the United States. I'm going to say I'm 95 percent sure of that," Johnson said.
It could take up to eight weeks before Johnson's truss officially lays claim to "The Largest" title.
Just how much does a record-setting truss cost?
"Let's just say, the price of a new SUV," Johnson said. "Go take a look at a 2012 Cadillac Escalade, for example."
Right at 2,000 pounds worth of steel, including 145 one-inch diameter 16-inch through bolts and two 3.5-inch by 0.25-inch steel metal gussets on each side hold the truss together.
"They had to be manufactured," Johnson said. "They just don't make gussets like that."
In order to fasten the logs together securely, Johnson used a method he is widely known for called "Western Flair," whereby the log is flattened off and "flared" a bit.
"So it has good eye appeal," Johnson said.
The truss, which stands heavily fortified in the Deadwood Log Homes log yard, will be shipped to the project site in Velva in about four weeks.  
The next act of Congress? Transporting the monster truss.
"The center section is 28 feet wide, and the left and right wings are each 26 feet wide," Johnson explained. "The left and right wings separate from the center section, so we'll lay the center section down on a 48-foot semi flatbed, stack the two wings on top of that and send it off."
Hands down, the most difficult part of the process for Johnson was the planning stage.
"Because the project was so large, just its scope," Johnson said. "I'm also a contractor, so when I order the material from the lumber yard, it has to fit at the job site. Because of the scope, we had a hard time fitting it in the yard."
So, will Johnson be in Velva for the official truss erection?
"What we did in Deadwood should work in North Dakota," Johnson said. "I've designed it so that it fits like a glove. I'm pretty proud of it. It was a labor of love and quite an undertaking, to say the least, a lot of planning."
Johnson said he never dreamed that the truss he had to recalculate to fit in his yard for construction would ever be a record-setter.
"I was asked to give a price and at that point, it never entered my mind that it could be the biggest and baddest in the U.S., and I could have cared less at that point," Johnson said.
But there's just something about spending day in and day out constructing something with one's own hands that brings about a true sense of pride.
"Finishing it felt gratifying," Johnson said. "For two men to construct it, to spend every working day for the last seven weeks, is a pretty good accomplishment."
As far as other statistics about the truss, Johnson shared that the timber grade is standard, the timber size is 20-inch, the taper is a maximum of one and one-fifth inches of taper per 16 feet of log length, the sweep is a single sweep when a center line from each end does not vary more than two inches in 30 feet, spiral grain cannot exceed one inch in 12 inches of length, connections are exposed steel gusset plates and through bolts, and the moisture content is the industry standard of 18 percent to 20 percent.
EDITOR'S NOTE: If you know of a more impressive component project, let us know: info@sbcmag.info!